Google continues to expand the dark theme in its products after they demonstrate the great saving of battery that occurs on devices with AMOLED screens. If this morning we saw how the dark theme it came to the implementation of Contactos now we see that also reaches the battery saving mode in Android.
through the last security patch November of the Pixel, Google has changed the behavior of the battery saving Android. It is now no longer limited to bring down the brightness of the screen, now activate dark theme, in addition to lowering the frequency of the processor and disable synchronization in the background of some applications.
The mode of battery Saving will activate the dark theme of the operating system (application launcher, notification bar and quick settings) and the dark theme of some apps compatible, such as Messages, Contacts, and upcoming Phone, thus prolonging the battery of your devices.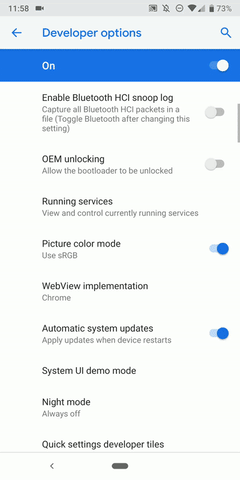 there will be No way to change this behavior, for a lot of you have set that you never want to use the dark theme, the battery saver always activate it, and disable it when you load the battery of the device.
This new feature of Android that Google has released in the Pixel will come in the future to more devices so that they can also lengthen a little more the duration of your battery when you activate the power saving mode.
Via | 9to5Google
we Also recommend
Google confirms that the interface by gestures cannot be turned off in the Pixel 3
Five recipes of autumn, ideal for pairing with wine
Titan M, we review the security measures of the new chip of the Pixel 3: the Android more secure
–
The news The battery savings of the Pixel active now the dark mode in Android and its applications was originally published in Xataka Android by Cosmos .

Xataka Android
The battery saver of the Pixel active now the dark mode in Android and its applications
Source: english
November 13, 2018