Many of us are accustomed to handle the technology. We use the mobile to browse the web, look at social networks and find all sorts of information. However still, for one reason or another, there are many older people who have problems to learn how they work mobile phones.
But despite not having much practice with the technology does not mean that they can't access it. A mobile phone is a very handy tool to be located, send messages, and why you see some apps like Google Maps that helps us to know where we are. For these elderly people have tailor-made applications but also mobile economic and simple.
Here is a small collection of Android smartphones for seniors. From mobile specialized to mobile economic worth for its size, price and ease to install an adapted software. A list that complements the mobile type shell or the Nokia that we left our companions of Xataka Móvil. We hope that you find one that you can to please your father or your grandmother.
Doro 8035
The first smartphone for older people that we bring to it is also one of the most recent. It is the Doro 8035, a mobile presented at the Mobile World Congress and that offers us a touch screen but also a software with large icons and easy to press.
is a device that Is durable and with a volume loud and clear so that there are no problems to listen to. Being based on Android, we have access to applications such as Google Maps or WhatsApp. It has 16GB of storage 2 GB of RAM. Available to buy for 213 euros.
Doro 820 Mini
The company also has other models more affordable as the Doro 820 Mini. We have a touch screen of five inches with three buttons, main physical and desktop with shortcuts to the five-megapixel camera and favourite contacts. Easy to use to call the children or grandchildren. Available to purchase for 149 eur.
THOMSON T-LINK 11
A mobile phone of the simpler of the Thompson brand. We have space for more than 200 contacts, bluetooth connectivity, and 2G to connect to the internet.
The menu is simple, and it is in Spanish. Robustness and a small display of 1.7 inches is perhaps a bit too small if the person has vision problems but it will be very easy to use otherwise. Available to buy for 14,66 eur.
ALCATEL 2008G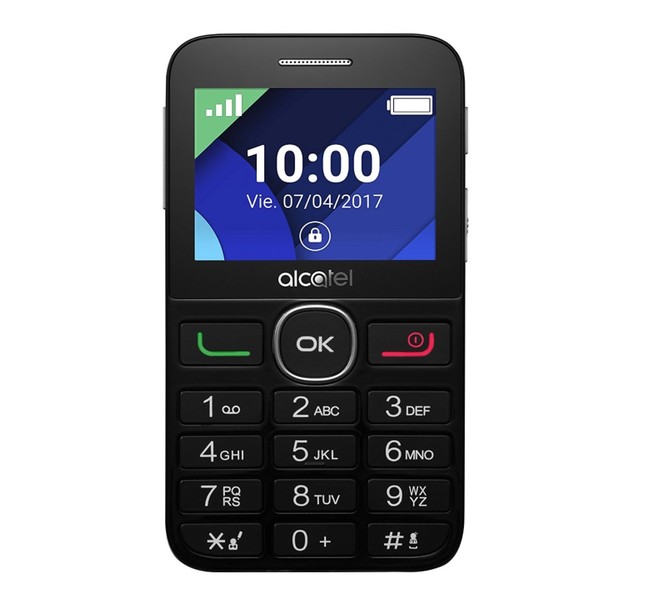 If you still think that you need physical keys to press the numbers, the Alcatel 2008G provides us with a mobile phone, very lightweight, battery of 1400 mAh and features like radioFM to listen to the string that most interested us. An economic component is very similar to the mobile phones that were not smartphones. Available to buy for 39,95 eur.
Archos Senior Phone
The French manufacturer also has a mobile-focused for seniors. We have keypad T9, a very compact design and weight of only 92 grams, so that transport is not a hassle, and can be stored easily in the pocket. It is dualSIM and has basic applications like a calculator, radio, calendar, the calendar or the emergency call. Available to buy for 48 € .
wiko site Sunny 2
A smartphone to use but with a price that makes it excellent for gift-giving to older people and which have a first contact with mobile technology. We have a smartphone-size content with a 4-inch screen, and Android 6.0 that can install a launcher as a Big Launcher. The camera is five megapixels and the rear cover has a metallic appearance that will certainly be more pleasant in the hand than others. Available to buy for 39 euros.
Motorola C Plus
Other mobile phone that is recommended for seniors is the Motorola Moto C Plus, a mobile with a screen of five inches enough to see it easily, a brand with good support if we have any problem and a software that does not gives problems and has a good performance, very important for the mobile is not a headache. A very good quality/price that can be a good gift for our family of entry age be able to use the technology. Available for purchase for 99 euros.
In Xataka Android | Seven applications to adapt Android to older people
–
The news The best Android smartphones for seniors was originally published in Xataka Android by Enrique Perez .

Xataka Android
The best Android smartphones for the elderly
Source: english
April 3, 2018