Halo Infinite is being harshly criticized by the finished chart that you showed in your first gameplay. Dan Chosich, director narrative of the game, says that these criticisms are falling on deaf ears.
fans of Halo Infinite came to the Xbox Games Showcase with expectations through the roof, and looked forward to the promised first video of the gameplay of the new installment of the saga of the Master Chief. However, during the broadcast of those 10 minutes of game, those expectations were fading for what they considered a bad finish technical and a poor graphic.
Halo Infinite has gone from being one of the most anticipated games to be one of the most criticized, but all those voices detractive they are not falling on deaf ears: according to Dan Chosich, director narrative of the game, the studio is listening to everything you are saying fans to be able to improve the development on the basis that feedback.
"I've been in your place. I know what it feels like to have expectation for something and then feel disappointed. I Want you to know that your voices matter and are heard," said Chosich from your personal Twitter account in response to a user who was angry about the release of Halo Infinite, which showed itself in the event of Xbox.
Video: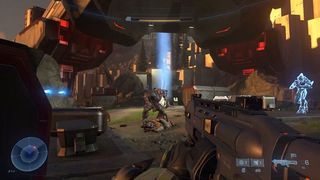 Honoring the legacy of Master Chief
The principal narrative of the game went on saying in his tweet that the criticisms are not passing unnoticed at 343 Industries because they want to maintain the image of Master Chief to the level that it deserves: "you are Not falling on deaf ears. I've always wanted to keep alive the legacy that Bungie started. I care a lot about honor that", ended with Dan Chosich.
Since the publication of that video gameplay live the topic of Halo Infinite has given a lot to talk about. Several developers 343 Industries have wanted to come out to the fore to defend what you just saw in the Xbox Games Showcase was an old version that still needs development time and the missing things to Polish. Others have talked openly of problems in the production of the game, at the same time that have embraced the memes that arose both during and after the digital event.
Halo Infinite will be published at the end of the year on Xbox One, Xbox Series X and PC.
The criticisms of Halo Infinite "being heard", says director narrative
Source: english
July 29, 2020