It allows us to unleash the collapse
Ubisoft has distributed a new video Tom Clancy's The Division , and opened a new website, which explains the way the virus came to play jeopardize humanity .
Entitled "the collapse begins " , the trailer puts us in perspective on the precarious security systems and health services , which would be overwhelmed pandemic of this kind. Also, thanks to this video, we know that the pathogen of the game is none other than a mutated strain of smallpox .
But there is more. href="http://collapse-thedivisiongame.ubi.com/es/" Ubisoft allows us to test by a s Realistic imulación taking data how our place of source and location thanks to Google , how the virus is spread in different parts of the world.
Collapse allows us to simulate the end of society through real epidemiological data
tom Clancy's The Division
, whose beta
was a success, it is set in a near future in which a v
irus has wreaked havoc on the island of Manhattan
, wiping out millions. It is an action game in
third person and role
with a strong
online
, both cooperative and competitive.
arrive on March 8 to PS4, Xbox One and PC
. According to Ubisoft,
can be one of the most important recent launch of video game history
Video.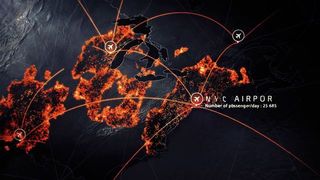 The Division shows us how the virus spread game in a new video
Source: english
February 25, 2016