EFE
"we Guarantee that all traffic be treated equally", said the agency on Twitter.
he Added that "every european should be able to have access to an open internet" and made it clear that in the EU you can't "block or discriminate against content."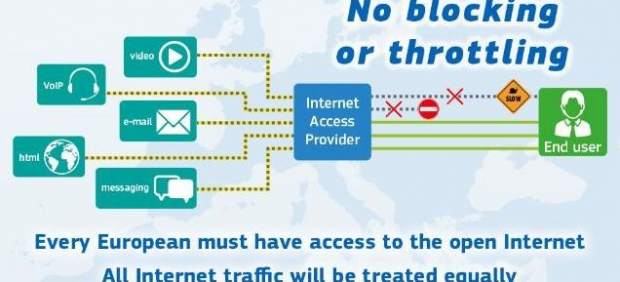 The European Commission (EC) said Friday that it "will continue protecting the neutrality of the network" in the territory of the European Union (EU), after the decision of the Federal Communications Commission (FCC) u.s. to approve the deletion of the neutrality of the internet.
"we will Continue to protect net neutrality in Europe, guaranteeing that all traffic is treated egalitarian," said the EC in the social network Twitter.
Added "every european should be able to have access to an open internet", and made it clear that in the EU you can't "block or discriminate against content, applications or services in line".
We will continue to protect #NetNeutrality in Europe, ensuring that all traffic is treated equally:
→ Every European must be able to have access to the #openinternet
→ No blocking or discrimination of online content, applications and serviceshttps://t.co/dSUM6wYwhu pic.twitter.com/r4Tmv2oy0i

— European Commission (@EU_Commission) December 15, 2017
In June of 2015 the EU adopted its first-ever rules to protect net neutrality, so that internet users could access the content of your choice, without which they were blocked or degraded (for example, slowed down in speed) so unfair.
Additionally, the legislation outlawed to pay for access to such content or services may involve a priority or privilege to get to them.
This rule provided that all traffic on the internet is "treated in the same way" with only a series of "exceptions to strict and clearly identified with the public interest".
The FCC, with a republican majority, approved this Thursday by three votes in favor and two against —democrats— to end the principle of "network neutrality" standard-bearer in 2014 by the then president of the united States, Barack Obama, and ratified as a standard in 2015.
This up-regulation was prevented by the companies suppliers of the internet could block or slow-down to your whim any portal of the network, regardless of the type of content in question.
In this way, when it becomes effective, the new standard, providers of the service will freedom to block or reduce the speed of load of the webs, with the only subordination of which to make public as part of the requirement of transparency that it maintains the new rule.
The European Commission ensures that it will continue to protect the neutrality of Internet in Europe
Source: english
December 15, 2017