Last season was the "growing pains "of 'Masters of Sex '. After a premiere very well received by critics, the aff...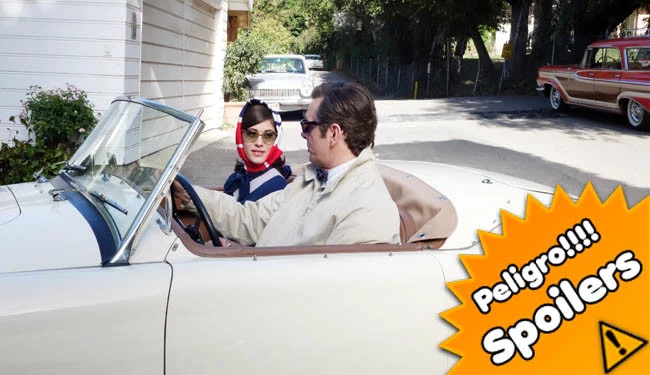 Last season was the "growing pains "of 'Masters of Sex '. After a premiere very well received by critics, the affair disguised as a book study for Bill and Virginia he remained stagnant, and attempts to integrate the struggle for civil rights in the plot were not too successful. They earned at least for Libby a joy to bring the body, but little more. However, the last episodes of the second season promised interesting things because, finally, Bill and Virginia were about to publish his study in book form.
'Respuesta Sexual ', the particular book (published in 1966), is considered Bible of the sexual revolution of the 60. It was a bestseller translated into thirty languages ​​that revolutionized the way it looked, and was, sex, and the third season of "Masters of Sex" just shows the time when the book has just come out and start having success. Suddenly, Bill and Virginia are known, and that circumstance affects them in different ways.
The role of Virginia
The truth is that from the beginning of the series, the feeling that this is more about Virginia Johnson on William Masters. Last year, for example, the subplot with Dr. DePaul was a highlight, and these new chapters, is your family situation which takes more attention. In part it is because his daughter Tessa is already a nosy teenager, mouthy and thinks he knows everything when, as you say Ygritte, knows nothing, and in so doing some of these collateral damages are noticed success of the book. It's really funny how it goes wrong his move for the mother of Virginia him to take the row over her affair with Bill
It's interesting how the lifestyle of Virginia can undermine the achievements of the study because it does not conform to social conventions a aspect that also explores the return of Margaret Barton Scully and the series. Bill strives, with comical results, being closest to the people, but still does not understand what is happening at home, but we see that both continue on with your affair , now without deceiving saying it is part of the study.
This brings us to Libby, who knows what's going on, and only asks Virginia that will not break your family. It is a relationship three evening different from that Margaret is with her new boyfriend (believing it is better than the secrets that kept Barton), but it also is aimed at breaking somewhere (if you know anything about the lives of Masters and Johnson, know where did). And if Libby decides to leave Bill, which seems to cross his mind several times, there will be no one who would take on face.
'Masters of Sex' is the Side
Virginia Johnson can be, de facto , the center of the series, but where 'Masters of Sex' has been offering a high level since the first season is in its portrayal of its child. Not only Barton and Margaret Scully, with that painful assumption that should have no more secrets between them, but Lester and especially Betty. We have not seen anything more than his relationship with Helen, but Annaleigh Ashford maintains its status secret weapon of the series, and puts almost all the touches of humor.
In fact, third season of "Masters of Sex 'has a slightly lighter tone, even though the specter of the Vietnam War lurks in the background. No claims of transcendence, and perhaps that's why it is proving a very enjoyable viewing. The addition of Josh Charles and his seductive perfume mogul (and how Virginia sees it as a momentary escape her relationship with Bill) moves in the same direction, and it is interesting to see how Masters and Johnson still want to be taken seriously although his book, suddenly, become very popular.
Tele Go! | 'Twin Peaks' movie will be a cut in bits and more news coming from Showtime
We also recommend
'True Detective' returns with a new story, new characters and more conventional
'Orange Is the New Black "returns to comedy in his third season
'Nurse Jackie' a cowardly way to the unheroic model Showtime
–
News Fame sit well with 'Masters of Sex' was originally published at Go Tele by Such Marina.



Vaya Tele
the ace in the sleeve of Nintendo, the game that will make the transi...
Tomorrow same will be presented the new chip of Qualcomm for the mid-rang...
The title has been downloaded over 125 million times.A new day, a new reco...
Online streaming is a common trend in the entertainment world nowaday...
Bibliography ►
Phoneia.com (August 16, 2015). The fame sit well with 'Masters of Sex'. Recovered from https://phoneia.com/en/the-fame-sit-well-with-masters-of-sex/

About the author
---
This article was published by
Phoneia
, originally published in English and titled
"The fame sit well with 'Masters of Sex'"
, along with 18987 other articles. It is an honor for me to have you visit me and
read my other writings
.