We show the first prototype of the series.
Ryszard Chojnowski, former project leader of The Witcher, has begun distributing a series of YouTube videos to explain what are the origins of this successful saga were CD Projekt.
In the first, Chojnowski reveals that the first demo of the original installment of the series was an RPG aerial view very similar to Diablo and inspired by Baldur's Gate: Dark Alliance . With this demo, CD Projekt RED was looking to get a publishing and created the prototype quickly using the engine Mortyr a 1999 action game set in the Second World War.

Here, players could create their own instead of playing directly with Geralt , since the latter would be an NPC with whom we could talk and interact. Finally
in May 2003, this version was totally abandoned and a smaller to reconsider what should be a real game The Witcher study was created. Four years later, we received the first game of the series , a title that clearly had little to do with his first prototype.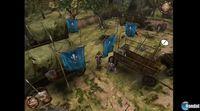 The first installment of The Witcher started as a Diablo-style game
Source: english
May 23, 2015