The Galaxy X is one of the devices most mysterious. It is the SM-G888N0a mobile device with flexible display that has already been confirmed by the CEO of Samsung, and that would come at some point in the next year.
we do Not know great details about how to operate this device flexible but through several patents, we are starting to get to know you. We know that will include a flexible display and that it will have a mechanism that will partition the device in two parts, as if it were a mobile phone-type shell, but with the advantage that the two screens would be in reality a single one.
A concept similar to what we have seen in the ZTE Axon M, which was a part good and another not so much. The interesting thing is that the software is adapted to the double screen and can display more information at the same time, the negative part is that the bar in the center cuts the image. According to the patent that Samsung now shows us, we would also have an interface adapted to the double screen. We hope that the south Korean manufacturer do not make the same mistake that ZTE.
These patents show a few screenshots of a version of the Samsung Experience (remember, new name of TouchWiz). The title is "electronic Devices composed of multiple screens and methods to control them". In the pages of the patent are displayed hundreds of schemas of how to adapt the applications to this device.
As we see, the idea is that the mobile can be used in vertical or horizontal and depending on the mode of use applications are divided between your main page and the menu, you can show two apps, you can display the controls, or even multi-tasking to a side. The possibilities are enormous.
The patent of Samsung dates back to the 2016 and does not specify whether to apply the next year. It is understood that these screenshots are based in the S6 and S7 and the end result would be much more similar to the Samsung Experience of the S8.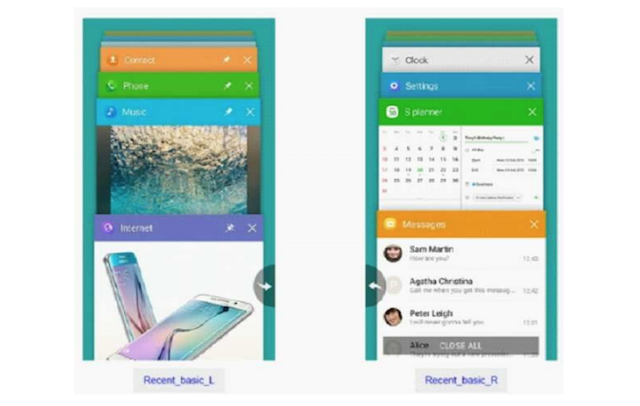 mobile phones with double screen have not been successful up to now, will have to see if Samsung and its screen flexible they get that this concept can convince us.
in Addition to a hardware that facilitates use, also you need a software that knows how to take full advantage of. According to these images Samsung is already working since a while ago to get it.
Via | SamMobile
Xataka Android | The Kyocera Echo to the ZTE Axon M: nine ways of understanding the concept of dual-screen mobile
–
The news The future Galaxy already has the interface: a patent teaches a design similar to the ZTE Axon M was originally published in Xataka Android by Enrique Perez .

Xataka Android
The future Galaxy already has interface: patent teaches a design similar to the ZTE Axon M
Source: english
November 9, 2017