we Already have a filing date for the new generation of devices from Google. The rumors were true and the new Pixel 4: will be presented on Tuesday October 15.
The event Made by Google will be held that day in the city of New York, at 10:00 PDT, the 19:00 CEST in Spain and 12:00 GMT-5 in Mexico.
Made by Google 2019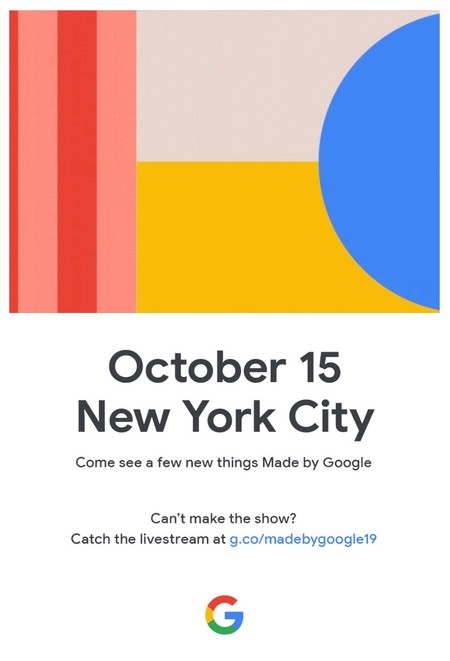 Google will allow us to follow live the presentation of their new devices through its live on YouTube which you can access from the address g.co/madebygoogle19. From the page of the direct, we may receive a reminder minutes before the event starts so we do not forget.
Made by Google 2019 the presentation will take place of the new Pixel 4 and Pixel 4 XL, the two next flagship of the company's search engine which just already hiding secrets, because the same Google has unveiled in recent months some of its most important features, such as your dual camera back, new face unlock and your radar Soli to be able to control the device with gestures in the air.
The Pixel 4 will not be the only devices that the manufacturer present the next October 15. It is also expected the presentation of the the second generation of the speaker Google Home Mini, and perhaps a new laptop Pixelbook. What you do not see will be a new tablet from Google.
Via | Android Police
we Also recommend
sales of the Pixel of Google doubled its number: the affordable Pixel 3a has been a magnet to enter into the ecosystem of Google
Google makes it official the face unlock and the control without touching the screen of the Pixel 4
The Google Pixel 4 is filtered in your renders more detailed, with a possible 'radar Soli' for control with gestures
–
The news The Google Pixel 4 will be officially presented October 15 was originally published in Xataka Android by Cosmos .

Xataka Android
The Google Pixel 4 will be officially presented on 15 October
Source: english
September 16, 2019