20MINUTES
in Addition to that promises a free year on Netflix, these days is has viralizado a message sent by the alleged director of Whatsapp.
Signed by Karelis Hernandez, ensures that Whatsapp will be paid and there will be problems in maintaining contacts.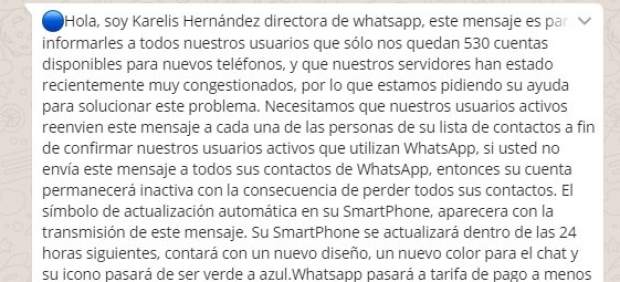 The messages in string in the network are as old as the e-mail. In Whatsapp have also been popularized and spread with great speed causing, in most cases, alarms without foundation and, in others, spreading scams of various kinds, such as the recent one in the they promised a free year on Netflix.
The last case is the message of the alleged director of Whatsapp, Karelis Hernandez. And we say alleged director because the message that is spreading these days through the app it sends such a Karelis Hernandez, director of the company. Something false because, as you recall from the Computer Today, the CEO of Whatsapp is Jan " Koum.
it is Worth remembering that this type of messages in the chain, as happens in other platforms such as Facebook, are almost always hoaxes or scams. In this case, a message that has been viralizado these days is the following:
"Hi, I'm Karelis Hernandez director of whatsapp, this message is to inform all our users that we only have a 530 accounts available for new phones, and that our servers have recently been very congested, so we are asking for your help to solve this problem. We need our active users to forward this message to every one of the people from your contact list to confirm our active users using WhatsApp, if you do not send this message to all your contacts WhatsApp, then your account will remain inactive with the consequence of losing all your contacts.
The symbol will automatic update in your SmartPhone, it will appear with the transmission of this message. Your SmartPhone will be updated within the next 24 hours, will feature a new design, a new color for the chat and the icon will go from green to blue.Whatsapp will pay rate unless you are a frequent user. If you have at least 10 contacts send this sms and logo will become red to indicate that you are a frequent user. Morning start to collect messages for whatsapp to 0.37 cents. Forward this message to more than 9 people in your contacts and you will be free of charge for life look, and will blue ball you from above."
do you have also received this message for Whatsapp? New #hoax circulating on the Network, Do not you fool! https://t.co/PTRPawupda pic.twitter.com/LZgOlymysy

— OSI Security (@osiseguridad) may 5, 2017
The latest scam in Whatsapp: the alert message of your (false) director
Source: english
May 13, 2017