It is one of the favorites of the community.
Mod support on console is one of the most interesting points of The Elder Scrolls V: Skyrim: Special Edition for these platforms -while PS4 will have some limitations-. One of the MODs of survival that are most valued among the community, Frostfall, is now available for Xbox One.
This content adds mechanics of survival to the game to make the toughest conditions: "Frostfall follow your location, weather, time of day, heat, clothing and more, to determine your current condition", you can read in the description.
Its makers claim that it is very customizable, and can be adapted for anyone looking for a dive light or a deep challenge.
Frostfall includes 13 new spells, the ability of resistance, effects of ice and snow, new sounds, the option to disable the quick trip and more.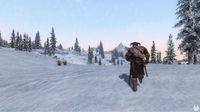 The MOD survival Frostfall for The Elder Scrolls V: Skyrim: Special Edition comes to the Xbox One
Source: english
October 25, 2016