It is expected to reach stores beyond Nvidia the 15 of January.
The graphics card Nvidia GeForce RTX 2060 will be launched on the 7th of January in the U.S., according to information provided by Videocardz. This would be the Founders Edition and would have a price of $ 349; January 15, he would start to reach third-party distributors to own Nvidia.
According to the information revealed and the first performance tests filtered out, this card will have more speed than a GTX 1070Ti and will be provided with technology support Ray Tracing. The goal of Nvidia is to expand the range to offer this card with a more affordable price that will help ensure that the technology for rendering real-time lightning was popularized at all levels.
it Is estimated that this will be a proper option for players who plan to use a 1080p resolution, that is still the most widespread among the monitors of the consumer.
The GeForce RTX 2060 will have 1920 CUDA cores, 240 cores, Tensor, 30 cores RT, 120 TMU and 48 ROP. The speed reference in boost is 1680MHz, although it is expected to offer models with overclock factory.
The card is placed in the medium range and will be the successor of the GTX 1060 with architecture Pascal. According to the data offered by Nvidia, with a resolution of 1080p, and ray tracing on offer in the game of reference Battlefield V a performance of 65 images per second (without DLSS) and of 88 images per second (DLSS). Without ray tracing reaches the 90 images per second.
below you can see the evidence of performance that has filtered Videocardz to check the frames per second that gives the card with multiple games and settings.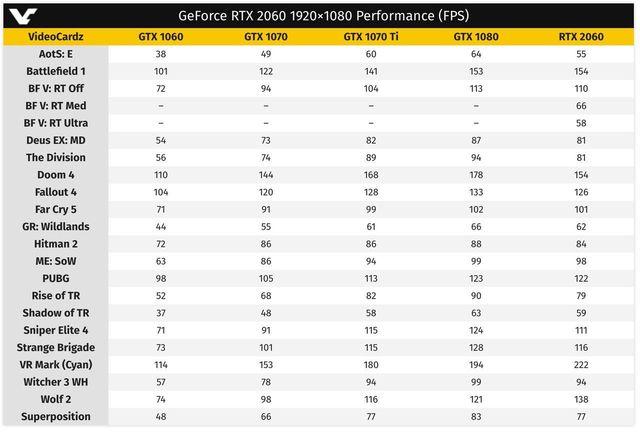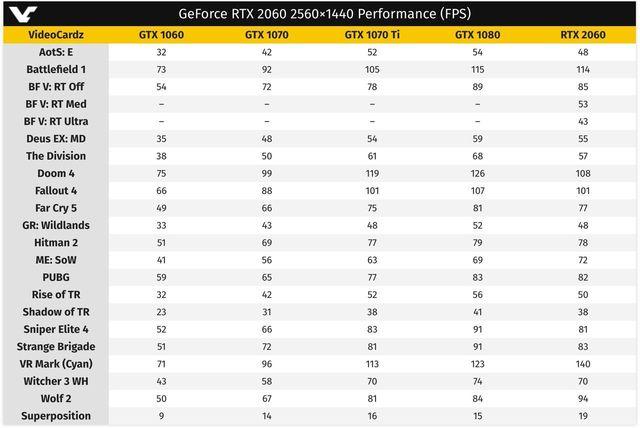 A comparative technique between the RTX 2060 and the latest Nvidia in the market can be seen below: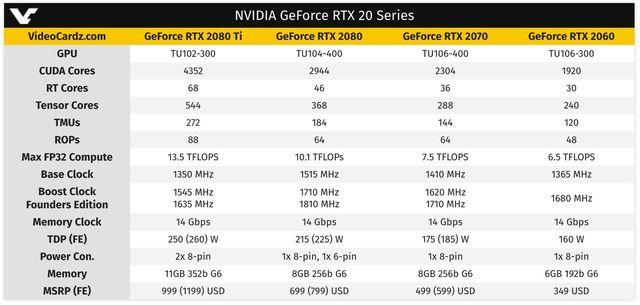 The Nvidia RTX 2060 will be for sale on January 7 at Founders Edition
Source: english
December 30, 2018