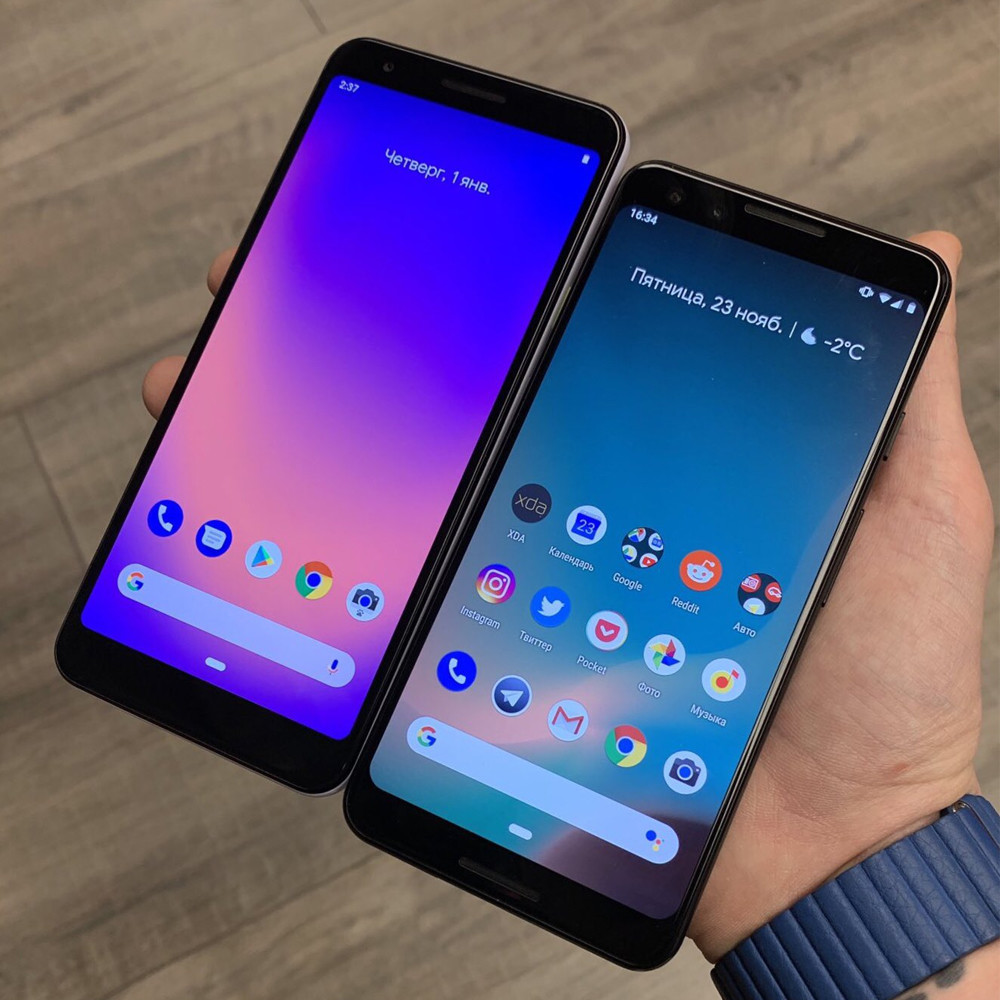 last week appeared for the first time the rumored Pixel cheap Google, the mobile mid-range premium that Google could launch in the coming months to accompany the new Pixel 3 and Pixel 3 XL.
now Known as the Pixel 3 Lite ("Bream") is seen again in a new filtered image, which perches to the side of the Pixel 3, so that we can see better some of the physical differences and techniques of both devices.
The Pixel 3 Lite has a screen a little bigger, supposedly from 5,56 inches in front of the 5.5-inch Pixel 3. The screen Pixel cheap would not be AMOLED but IPS, with the same resolution of the screen, FullHD+.
"Sargo" and Pixel 3 pic.twitter.com/MPETnj3BgL

— Ben Geskin (@VenyaGeskin1) November 23, 2018
As we can see in the image, the Pixel 3 Lite is a bit bigger than the Pixel 3, we see that it loses the dual front speaker and dual front-facing camera.
The Pixel 3 Lite would be the processor Qualcomm Snapdragon 670, 4 GB of RAM, 32 GB of internal storage, a battery would be of 2,915 mAh, fingerprint reader and rear jack 3.5 mmm for the headphone.
Pictures made with the Pixel 3 Lite
The rear camera's Pixel 3 Lite would be the same sensor used in the Pixel, Pixel 2 and Pixel 3 XL, 12,2 MP Dual Pixel 1.4 µm, with what would be the mid-range with best camera on the market. A few days ago leaked the first pictures taken with the Pixel 3 Lite:
Pathway | PhoneArena
we Also recommend
Google could launch two Pixel mid-range: 'Nice' and 'Sargo' would be their code names
The Night Sight comes officially to all of the Google Pixel
Your baby is going to grow more than ever in their first years: how to prepare for the changes?
–
The news The Pixel 3 Lite is left to see to the side of the Pixel 3: new leaks of the cheap mobile of Google was originally published in Xataka Android by Cosmos .

Xataka Android
The Pixel 3 Lite is left to see to the side of the Pixel 3: new leaks of the cheap mobile of Google
Source: english
November 24, 2018