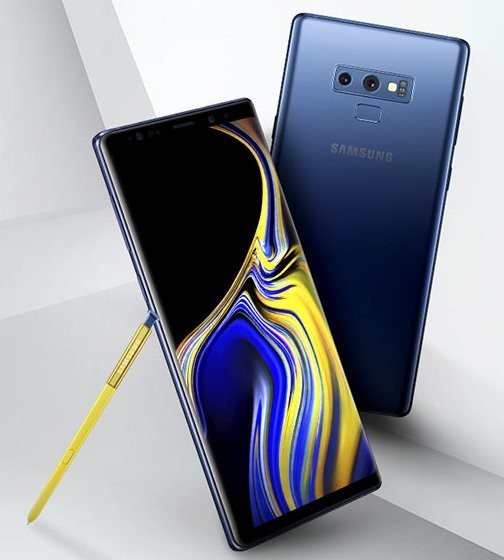 The summer was a time of drought in releases of new mobile is concerned, but for a time this is changing. It is not the only (let's not forget that expected Xiaomi Mi A2), but there is no doubt that the renewal of the series Note is the main protagonist of the summer season.
The next Samsung Galaxy Note 9 already has a date presentation and now also has what would be his first press image that stands out above all an eye-catching S Pen in yellow color and, to a lesser extent, a new location for the fingerprint reader. The image has not been posted by Samsung, the filtration comes, once more, of the well-known 'leaker' Evan Blass.
in the wake of a continuation of the S9
The Samsung Galaxy Note 9 is close, and this implies that each time we know more details of the upcoming phablet of the south koreans. Of its features has already been spoken long and hard and everything points to that Note 9 will not bring radical improvements, or at the level of specifications or, especially, design. We will, as happened with the S9 compared to S8.
The image posted by Evan Blass confirms the rumors previous. The design of the Note 9 follows the style of the Note 8, although there are differences. Waiting to know technical details such as measurements or weight, to the naked eye to distinguish a clear change in the rear: the 'pill' where it has placed the camera is more discreet and, above all, the fingerprint reader is located below and not to the side. It's over put your finger in the lens.
S Pen? pic.twitter.com/xizmWw9J2W

— Evan Blass (@evleaks) July 17, 2018
The other noticeable change is its S Pen, although in the photo what stands out most is its yellow color and not their innovations. According to the rumors, the pen will have Bluetooth support and, in addition to draw or write by hand, will serve as a remote control to get us out selfies. For the rest, Note 9 not much has changed with respect to its predecessor. We have a design enough shape rectangular, display elongated (without notch, less bad) with curved edges and in generally the same style that we already knew.
On the technical side it seems that there will also be many similarities, but are awaiting developments as a more powerful processor or a larger battery. the 9th of August, we will leave doubts, if any.
In Xataka Android | Samsung Galaxy Note 9: on sale August 24 and slightly cheaper than the Note 8, according to the latest filtration
–
The news The Samsung Galaxy Note 9 has design continuity and new S Pen in a filtered image by Evan Blass was originally published in Xataka Android by Amparo Babiloni .

Xataka Android
The Samsung Galaxy Note 9 has design continuity and new S Pen in a filtered image by Evan Blass
Source: english
July 17, 2018