They accuse the article of manipulation and provide erroneous data.
The British tabloid The Sun has published an article that seeks to equate video games and heroin in its headline suggesting that the former are as addictive as
drug.
"The games are as addictive as heroin" , proclaims the news written by Lee Price for businessman Rupert Murdoch tabloid.
In article ensure that you get to play video games is as harmful to health as drug abuse although objective data show that no direct deaths occur by use of video games but yes more than 10,000 deaths from drug abuse are reported annually in the UK.
Article has been reviled for any informational value for the Dr. Mark Griffiths from the Nottingham Trent University, who is quoted in the article. scientist has said that the article has no basis and ensured that his statements have been manipulated and misquoted . Despite the referenced article The Sun , Dr. Griffiths indicates that it is factually incorrect to suggest that "the brink of an epidemic" of video games is.
In Article reference to Alchemy Clinic who runs a betting exadicto, Steven Noel-Hill is. In newspaper says that this clinic for gambling addicts is actually a clinic for video game addicts and by site has already received over 5,000 calls from people seeking help. The clinic opened two years ago but their website is not active and seems to carry closed time. At the time, the founder, Noel-Hill, said video game addiction in adolescents would be one focus of attention; however, Noel-Hill is a former sports agent (specializing in world football) and has no medical training.
British video game bosses, UK Interactive Entertainment (UKIE), replied to article stating that "the video game industry takes the health and welfare of consumers very seriously and these currently no official medical diagnosis of video game addiction , or the American Association of Health or the World Health Organization (WHO). "
" As with any hobby, common sense should be applied regularly and players should rest at least five minutes after every 45 or 60 minutes, " recall from UKIE.
The organization condemns the newspaper article states that "stories like this completely ignore the positive effects of play and the fact that millions of people around the world play video games so safe and fair all day. "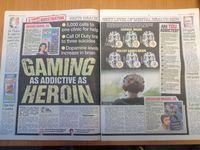 Vandal
The Sun compare games with heroin
Source: english
July 13, 2014