According to speculation in the wake of a record in the PEGI system.
November is confirmed that the three games of the series Trine would throw themselves in Nintendo Switch and now it is speculated with the possibility that arrive not separately, but in a pack that might also have distribution in physical format.
Video: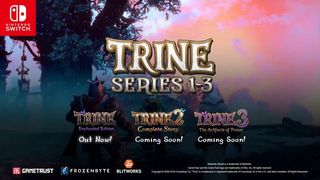 The rumors arise from the appearance on the database of PEGI, the european system of classification by age, Trinelogy/r> with a register name from Frozenbyte.
This seems to suggest that the company plans to release the three titles as a compilation and not separately (or perhaps both), but, above all, their appearance in PEGI is usually indicative of a edition in physical format.
Trine Enchanted Edition came in November of 2018 to Switch, and it is expected that Trine 2 Director's Cut and Trine 3: The Artifacts of Power is launched during 2019. Now, with Trinelogy, it is possible to join in a compilation.
Also remember that it is announced also Trine 4: The Nightmare Prince, launch the expected for 2019 on PC, Xbox One, PlayStation 4 and Nintendo Switch.
Vandal
The trilogy of Trine can join in a pack for Nintendo Switch
Source: english
January 5, 2019