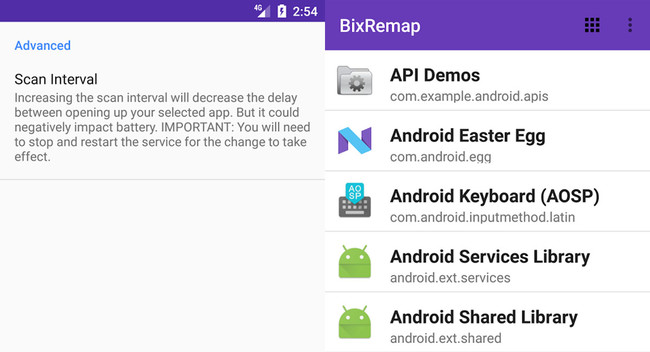 At the beginning of the month I told you how you could remap the dedicated button of Bixby the Samsung Galaxy S8 to open any other application (for example the Wizard of Google), by the application All-in-One Gestures. A week later, Samsung blocked this method to protect their exclusive button.
Now the ball is back on the roof of Samsung, as another developer, Dave Bennett, has created a new application to remap the button exclusive of Bixby. The app is called BixRemap, is in Google Play and is by now rather a proof-of-concept / test that you can be useful if you have done it with a Galaxy S8 and Bixby don't quite convince.
Google Now on Bixby
BixRemap is not a perfect app (its author acknowledges that he has only spent about 20 minutes developing it) but for now it is enough to launch the Google search each time you press the button Bixby, without the need to follow as many steps as I passed with All in One Gestures. The search is launched on top of Bixby, so that you could see Bixby momentarily until the other application is rolled up.
To work, BixRemap need permission to access the history of application usage, as they are aware of when it was released Bixby to be able to open Google Now on top. The first version (the one shown in the video) it only had a button to start the service, but since then it has been updated a couple of times, allowing you to choose other applications to launch instead of Google Now.
what Will Samsung also blocking this method? it Is possible, but to do so we would be in a dynamic cat-and-mouse that will hardly end, and for sure Samsung have more important things to fix and improve that to avoid that people use the buttons on the phone that you have bought as it better suits them, or not?.
BixRemap
1.2
Via | Android Authority
Xataka Android | Samsung eliminates the possibility of remap the button Bixby your Galaxy S8/S8+
–
The news there is Already another app to remap the button Bixby, and open other applications was originally published in Xataka Android by Ivan Ramirez .

Xataka Android
There is already another app to remap the button Bixby, and open other applications
Source: english
April 24, 2017