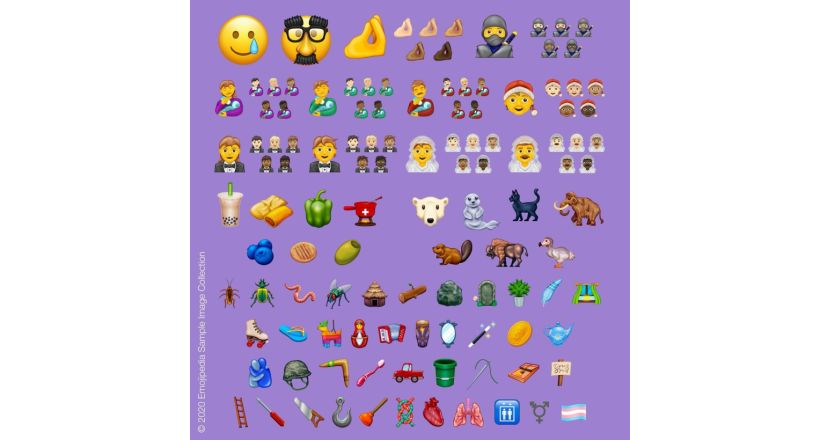 the Unicode Consortium announced the new Emoji characters are added to Unicode 13 in 2020, and that eventually will be adopted by Apple for use on iPhone, iPad and Macs.
There are a total of 62 new emojis including a smiling face with a teardrop, polar bear, seal, bubble tea, truck, fondue, kettle, magic wand, pinata, and more.
These are the new emojis separated by categories
Faces: smiling face with tears, and hidden face.
People: ninja, a person with a Tuxedo, a woman with a Tuxedo, person with a veil, a man with a veil, woman breastfeeding, person giving food to baby, man feeding baby, Mx. Claus and people embracing each other
body Parts: heart, anatomy, lungs, fingers pinching
Animal: black cat, bison, mammoth, beaver, polar bear, dodo, seal, beetle, cockroach, fly, worm
Food: blueberries, olives, peppers, flat bread, fondue, bubble tea
Articles of the house: plant with pot, tea pot, piñata, magic wand, Russian dolls, sewing needle, mirror, window, plunger, mouse trap, bucket, brush teeth
Clothes: sandals, military helmet
musical Instruments: accordion, drum
Several: pen, rock, wood, shelter, truck, roller skates, knot, coin, boomerang, screwdriver, handsaw, carpenter, hook, ladder, lift, marker, placard, symbol, transgender flag transgender.
The update also includes 55 variants of gender and skin tone, along with the new emojis inclusive of gender.
Apple will adopt the new characters emoji Unicode 13 at some point in the 2020's, probably towards the end of the year, with the update of iOS 14.
These will be the new Emojis 2020