One of the new year's resolutions most repeated is to start going to the gym. The very same day, January 2 you join the gym, the next week you don't miss any day of training and in a couple of weeks not you again to see your hair for the gym. There's an app for that.
this is Abusive Gym Reminder, an app that uses geolocation to detect if you've gone to the gym autonomously and maintains a log of which days you've gone, and what days you've skipped. And if so, you're going to take your well-deserved, as the application will insulting journal to keep you motivated.
Choose your gym and don't skip any day or…
The first thing you have to do in Abusive Gym Reminder is to add your gym or gyms on the map. To do this, accounts with the built-in search Google Maps, you won't find it. If not, you can always place the pointer over the map on your location.
Then you can set up your training plan in the tab Days, to mark what days you are planning to go to the gym. From the options you have some additional settings such as the level of insults (passive-aggressive, abusive, or extra abusive) or what time you will receive the notification.
from there, do normal life and go to the gym when you touch… or start receiving insults. I'm not going to reproduce here so as not to shock anyone, although you can see some examples in the screenshot below. Yes, they are only available in English for now.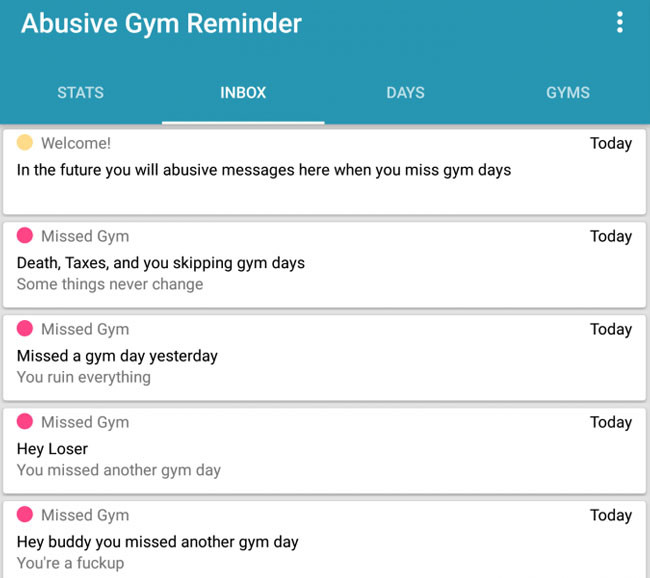 what will Be most effective insults that positive reinforcement when you've gone to the gym? You'll have to try it to see how it affect you, but beyond the insults, the fact that the application to register automatically when you've gone to the gym and when not to is quite interesting in and of itself.
Abusive Gym Reminder
1.8
Android Version: 4.3
Developer: Pipit
Download: Google Play
Price: the Free
Category: Health and wellness
Via | XDA
Xataka Android | 24 apps to help you with your new year's resolutions
–
The news This app will insult you if you're not going to the gym was originally published in Xataka Android by Ivan Ramirez .

Xataka Android
This app insults you if you're not going to the gym
Source: english
January 16, 2017