DG
Roy Batty, Android Nexus 6, was born on January 8, 2016.
is one of the most iconic characters in the history of science fiction, especially through his monologue 'Tears in the Rain'.
The sequel to 'Blade Runner' will begin shooting soon.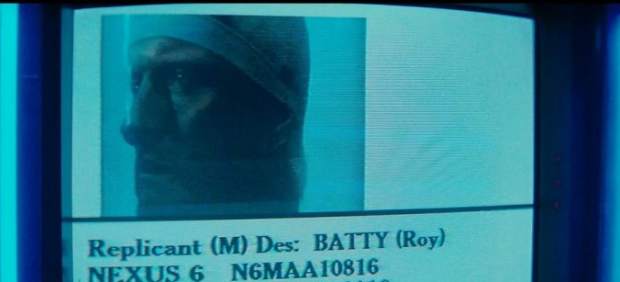 If a few months ago we celebrated the arrival of Doc and Marty McFly to this , have today another great reason to flush our eighties wrath on January 8, 2016 is the birthday of Roy Batty , the famous film replicating Blade Runner Ridley Scott.
This blonde android known as Nexus 6 hit theaters in 1982. It quickly became an iconic figure of science fiction, an artificial creature that developed feelings and came to be "more human than human" a memorable villain who stood up to police played by Rick Deckard ?? Harrison Ford ?? and he helped transform the story by Philip K. Dick Do Androids Dream of Electric Sheep? in a cult film.
The strength of character is due for next, to the great performance of Rutger Hauer and, secondly, to his intense and emotional final monologue, one of the most memorable in the history of cinema: "I've seen things you people would not believe: Attack ships on fire off the shoulder of Orion. I watched C-beams glitter in the dark near the Tannhauser gate. All those moments will be lost in time … like tears in the rain . It is Time to die. "
The strength of these words, in the version in Castilian, are also linked to the powerful voice of the late and much loved Constantino Romero
During this year. Also born Pris and Zhora replicants, played by actresses Daryl Hannah and Joanna Cassidy respectively.
Blade Runner has become over time one of the main references of science fiction movies and stories on artificial intelligence and its possible consequences. After many rumors, eventually developing a sequel that will protagonizada Ryan Gosling and directed by Denis Villeneuve.
In addition, the return is confirmed Ford as Rick Deckard. Thus, after playing Indiana Jones in El Kingdom of the Crystal Skull (2008) and Han Solo in El Force awakening (2015), the iconic Hollywood actor will reunite with the third great hero of his career .
It is expected that the shooting the sequel, whose argument is still no details, start in the summer of 2016
This January 8th is the day he is born Roy Batty, replicant of the famous 'Blade Runner'
Source: english
January 8, 2016