DANIEL G. Aparicio
Tom Holland, the child of 'The Impossible', starring opposite Chris Hemsworth 'In the Heart of the Sea', based on the true story movie that gave rise to 'Moby Dick'.
The young man, now 19, will be the next Spider-Man.
Holland has spoken to '20minutes' about their present and future.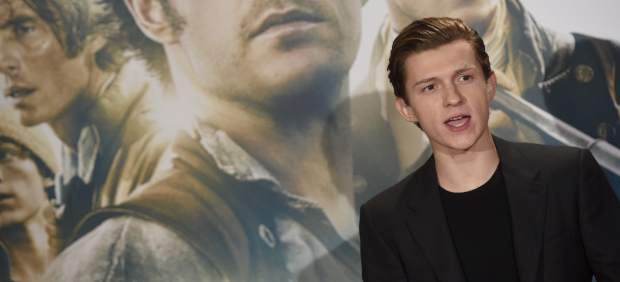 In 2012, while still a child, Tom Holland attracted industry attention with his excellent role in The impossible , Spanish film where she played one of the sons of the main characters. His obvious acting talent, some already known for his work on the musical Billy Elliot, was at the height of two veterans like Ewan McGregor and Naomi Watts" Naomi Watts .
Now, Holland is prepared to take the final leap to fame. He has been chosen to play the new Spider-Man, the third in less than fifteen years a young Spidey will be integrated into the univeso Marvel film that revolves around the Avengers. But before the big jump, there has been an important first step titled In the Heart of the Sea adventure film in which Chris Hemsworth ?? face and body Almighty Thor ?? Holland met and decided to recommend it to Marvel.
Holland, who visited Spain recently, plays in this film ?? continues at Christmas billboard as an alternative to blockbusters like Eight Catalan surnames and Star Wars: The Force awakening ? ? a young boy who embarks on his first trip on a whaler. The actor spoke with 20minutes about the project and its future as Spiderman.
What was the hardest part of shooting At the heart of Sea
Weight loss. When you're in that situation it is a constant struggle. Whenever you have more and more hungry and the only way to fix it is to eat, but can not. You come to work hungry, you go to bed hungry, you wake up hungry … It's constant. It was tough, but it was for a good reason. We were making a film based on real facts and we must accept these conditions to do justice to the characters.
How did you stand it?
We must always remember that we were making a movie of one of the great directors of Hollywood, Ron Howard, and we had to be very motivated. All I could do was hold on, hold on belly and try not to lend to mourn. Fortunately, we were twenty actors to diet, in the same situation, so we all had a shoulder to mourn.
How much weight lost?
The truth is not sure at all, I have left a little forgotten. Also, as I was underage, there were a number of legal requirements that had to complir and could not fall below a certain weight. Chris is a tough guy, had much more to lose. I'm more smallish and had less, but it was still hard.
Do you think that these extreme situations puden make a person change dramatically?
Yes, take it to the end may be crazy. When you do not eat, your body will stop working and your head starts to show things. I dreamed of food every day. It was strange.
First Impossible now In the Heart of the Sea … It seems that the water chasing him, do not you mania has caught?
No. I like surfing and swimming in the sea, but I really hate to go by boat. For me can become the worst in the world, I get dizzy and I look most uncomfortable. Work at sea, in a real set and then work on the water tanks is hard but it is also challenging and everything is a challenge is also an opportunity for learning.
Even so, Have you learned anything about sailing?
Yes. We did not do the work, but aparentábamos know them. It has been quite real. We had real sailors that we were leading. A safe environment in which we practiced exercises like pull the rope was created. For six weeks we went forming: We went to a school of navigation and sailing, rowing learned to hunt whales … We never really did, of course, but ultimately the process itself we were pretty hardened sailors. Of course, if now you tell me navigate a boat, it would be a disaster.
What has it meant for you this movie?
It has given me a lot. I've been very lucky to have been able to be with a lot of people as incredible as Ron Howard, Chris Hemsworth, Cillian Murphy and Brendan Gleeson. They are professionals who are at the top, are the best of the best. Even in the inevitable dull moment I could not have been in a better situation.
Can you say you've made new friends?
Yes, it has been a pleasure working with the team personally. We felt like brothers and, in a way, we have been like a rugby team with a very strong bond together.
How is it like working with Chris Hemsworth?
Incredible. Maybe it is a bit too cute (laughs). No, just kidding, it's a great guy, super affectionate, a person in our community. Now a colleague, but at first I saw walking beside her and had to pinch myself. It's pretty cool, a good guy.
Alaba much their peers, do not you think Juan Antonio Bayona may feel a bit jealous?
saw the movie and Bayonne he is very proud. I know that if I had not liked what he would have said, because he is very honest with me. I did my first film with him and what he and Naomi taught me everything. It is not an envious person, loves movies and loves to see others succeed.
How do you feel the opportunity to be the new Spider-Man?
Very good. Words can not explain how happy I am that you have given me this opportunity. I'm anxious to start shooting the movie.
Do you think you're prepared to deal with the fame that come with the character?
The truth is you do not you can prepare. Here I had the good fortune to meet an actor Cillian Murphy as a very successful person can walk down the street quiet, that knows how to manage well the fame, the press … No doubt I'll talk to him later. I know that fame will bring consequences and can be very overwhelming, but at the same time I think it may be something fantastic because it is people evaluating your work and that's exciting.
Are there many jokes between Chris and you on the fact that he is Thor and you will Spider-Man?
All the while, really. We recently were in The Ant and an ant dressed Thor and another Spider-Man, thought it was great. It's great to know someone and this universe.
What are your favorite movies?
As for acting, Edward Norton in his first film, The two faces of truth , it seems extraordinary. And movies … My Cousin Vinny, Apollo 13, The Shawshank Redemption … And I also like comedies very much. I think they are undervalued. For example, I recently saw the trailer for Zoolander 2 and looks fantastic. Overall, I would say that I like the classics.
What about superhero movies ?, and Spider-Man in particular?
Love Captain America: The Winter Soldier , but I think my favorite is Ant-Man . The interpretation of Paul Rudd is great. As Spider-Man, I think my favorite is Spider-Man 2 of Sam Raimi, but the franchise that I like is The Amazing Spider-Man . I loved what Andrew Garfield and Emma Stone did with the characters.
How do you envision in the future?
I have no plans, you can not have them in this industry because everything changes very quickly and do not know what it's going to take work, so I just try to enjoy, be careful and remain myself. That's my main goal.
Cine
Tom Holland, the new Spider-Man, "" Spider-Man 2 'by Sam Raimi, is my favorite "
Source: english
December 23, 2015