from a family Of artists, René Marie Murat Auberjonois was born on June 1, 1940, in Manhattan. With barely six y...
When you go out to eat away from home we go to the best place that fits our budget and tastes, which is why we always tend go to trusted sites or that we have recommended, but when we have already tired of going to the same places, and especially when we tour, visiting other cities, we have to find out which are the best restaurants and here our Android device is a great ally.
If you do not want to enter blindly into the first restaurant you come across on our walk can use one of the many seekers restaurants you can download from Google Play. And there are many applications, then I leave you with a selection of Top 5 applications to find restaurants and bars in Android
Google Maps
We begin our selection with Google Maps because it is an application that It comes installed as standard on most devices. With the implementation of Google maps we can find the nearest restaurants performing queries such as "restaurant", "Italian", "Japanese restaurant", "tapas" and co. We can filter the results by titration to see only the best places on the map.
In your browser find Browse by , and find different selections for lunch, snack, dinner, etc … showing the most popular time of day for each site. In each tab a restaurant will see its information, photos, reviews popular hours.
Maps
Android version: 4.0
Developer: Google
Download it at: Google Play
Price: Free
Category: Travel & Local
Awards
Awards is the most popular travel guide in the world, in which we see their logo on the doors of many restaurants and hotels. Its application allows us to select the type of facility where we eat and apply numerous filters to locate the nearest restaurant that best suits our tastes. In the file for each restaurant we will have your information, photos and comments.
Awards
Android version: 4.0
Developer: Awards
Download it at: Google Play
Price: Free
Category: Travel & Local
Yelp
Yelp is another great alternative to find any business, but especially for restaurants and bars. Your browser allows us to filter the results by price, if they are open at this time, if they accept reservations if they have any current promotion and characteristics. In addition, you can sort the results by titration or distance, and see the results on the map. No shortage valuations of its large community of users.
Yelp
Android version: 4.0
Developer: Yelp
Download it at: Google Play
Price: Free
Category: Travel & Local
Foursquare
Foursquare is one of the most popular applications to find places to eat, shopping or partying, also with a large community of users leaving behind valuations. Your browser has numerous filters, lets us see the results on the map and different sections to locate restaurants a type of food or service.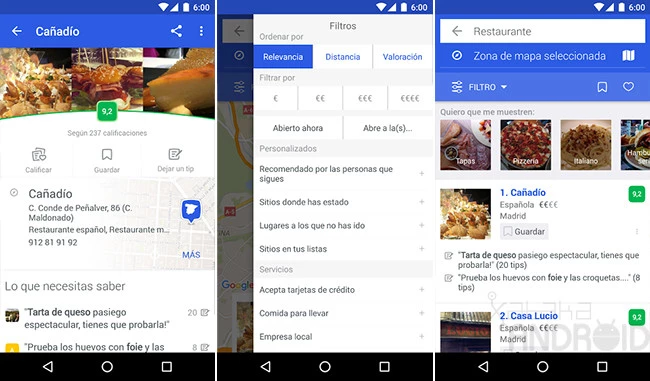 Foursquare
Android version: 2.2
Developer: Foursquare
Download it at: Google Play
Price: Free
Category: Travel & Local
TheFork
Finally we have TheFork to find the best restaurants around, including different sections, the price chart and a powerful search engine with numerous filters. It allows us to see the valuations of its users and TripAdvisor. TheFork currently highlighted in the many offers we can find many restaurants.
TheFork
Android version: 4.0
Developer: TheFork
Download it at: Google Play
Price: Free
Category: Travel & Local
| Thinkstock
In Engadget Android | ¿Cómo share our location at all times with Android
– The news
Top 5 applications to search on Android restaurants was originally published at Engadget Android by Cosmos .

Engadget Android
Xiaomi is a company of contrasts. Yesterday we knew their terminals mor...
This is the project Devilution, from the hand of a group of programmers, a...
20minutes Most of the stories about Sherlock Holmes Scottish writer ar...
Eine mobile Security-Experte in der deutschen Ansprüche, entdeckt einen...
Bibliografía ►
Phoneia.com (November 26, 2015). Top 5 apps to find restaurants in Android. Recovered from https://phoneia.com/en/top-5-apps-to-find-restaurants-in-android/