It is a game mode with rules of american football.
Clash Royale was one of the most successful titles in 2016, presenting an addictive mix of tower defense, strategy and card game. A few days ago, was the way Touchdown, which added rules of american football to its mechanical, something that garnered so much success that it has been announced that will return the next weekend.
The mechanics of this mode consist in place a team of two players in a top zone and the other in a lower area with the aim of enter in the opponent's area and their area, or line annotation. The first team that can do so will get a point on your marker, inviting us to do this as many times as we are able. In Touchdown the mechanics of letters and other items change, offering an alternative very strategic.
A resounding success, with a turnover of millions of dollars in 2016
Clash Royale, from the creators of Clash of Clans, we propose a mechanism for mobile devices that combines the tower defense with new forms of game, such as the trading cards and the real-time strategy. The application includes a strong multiplayer component, as well as a gameplay direct, designed for touch screens.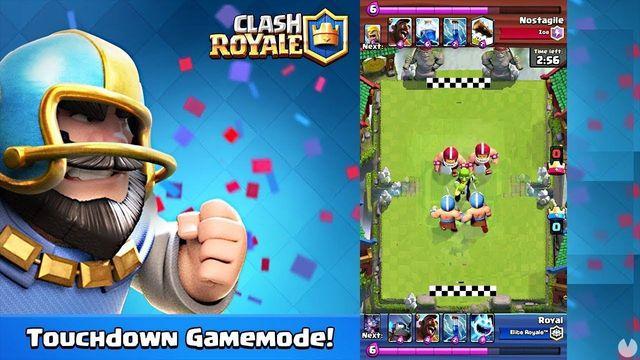 The game was selected by Apple as one of the best games of 2016 in the list, which annually selects the most interesting of the iTunes Store and App Store. We speak of a success on mobile platforms that has only been surpassed by Pokémon Go.
Touchdown returns to Clash Royale this weekend
Source: english
November 23, 2017