20 MINUTES.IS
There is a big difference of characters between different languages.
most of the tweets in japanese is 15 characters while the majority of tweets in English has 34.
In languages like japanese, Korean or chinese, you can convey almost double the amount of information in a character that other languages such as English or Spanish.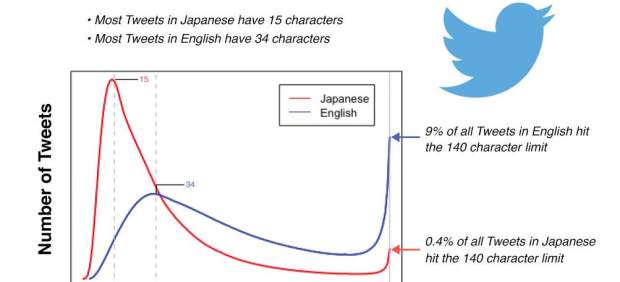 The social network Twitter has surprised its users by announcing his intention of increase the number of characters of the message, that will pass the landmark limit of 140 characters to 280, just the double.
The company announced what was the reason for this change, the difference in use of characters between some languages and others, but now wanted to give a more detailed report on the matter.
"We have seen that in languages like japanese, Korean or chinese you can stream nearly double on a character with respect to other languages such as English, Spanish, Portuguese or French, which many times cause frustration to those users," said Twitter in a statement.
"in Addition, in those countries in which people do not have to compress their thoughts into 140 characters, and actually has characters to spare, see who tweeted the most. Our goal is that all people around the world are able to express themselves in a simple manner on Twitter, and hence this test", they say.
The company has observed that a very small percentage of tweets sent in japanese reaches 140 characters, only 0.4%. However, in English, the percentage of tweets that reach the limit of 140 characters is much greater, 9%. Most of the tweets in japanese is 15 characters while the majority of tweets in English has 34. "Our investigations show us that the character limit is the main cause of frustration for those who tweeted in English, while it is not for those who do in japanese", they explain.
"we Understand that as many of you have been tweeting for years, you may feel an emotional attachment to the 140 characters –we too past– it. But what we have tested, we have seen the power of what that can involve, and we have fallen in love with this new, and still short, restriction. We are happy to share this experiment that we started today, and we will keep you informed of the developments and next steps", concludes the statement.
"This is a small change, but a big step for us. 140 was an arbitrary choice based on the 160 character limit of SMS. I am proud of what hit that has been the team in the solution of a real problem with that is the people when you try to tweet. And at the same time keep our brevity, speed, and essence", he has written Jack Dorsey, creator of Twitter, in the above-mentioned social network.
Twitter detailing why you want to increase the length of the 'tweets' of 140 to 280 characters
Source: english
September 29, 2017