two years Ago Twitter changed the way that showed the tweets in our timeline. Instead of showing first the most recent happened to use an algorithm that showed first the tweets more prominent and then the rest. This change does not ended up like all over the world, with what the social network has reconsidered and has given the option to users of back to the chronological order.
The new option was released almost a month ago on iOS, but from today is now available also on Android. Your official application already allows us to change the way in which to display the tweets on the home screen.
Android, we got you. Starting today, tap ✨ to switch between the latest and top Tweets. pic.twitter.com/7rXo3BNEJ6

— Twitter (@Twitter) January 15, 2019
Twitter announced that this novelty is available from today to all Android users. Just have to have the latest version installed of your official application.
How to turn on the chronological order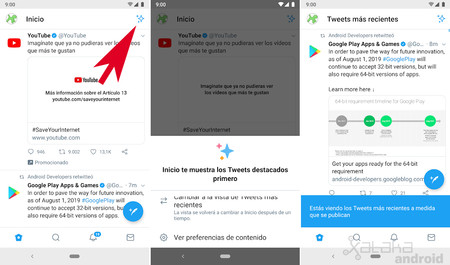 If you don't like first to see the tweets featured and want to see the latest tweets first of all you need to do is click on the new icon blinking that you will find in the upper right corner and in the bottom menu that opens, tap on the new option Switch to view latest Tweets.
from that moment we'll see our timeline in chronological order, but not always. Twitter lets us know that the view will change after a time to return to first display the tweets highlights.
At any moment we can return to the previous view to first see the tweets featured. To do this we have to follow the same steps and tap on Back to Home, which is the default view of Twitter.
Twitter
Varies depending on the device.
we Also recommend
buying Guide to start the year: The PC gamer ultimate for every pocket
Twitter is loading its official application for Android TV
Twitter for Android is passed to the bottom navigation bar and it loses drag to change
–
The news Twitter for Android already allows you to activate the chronological order, we tell you how was originally published in Xataka Android by Cosmos .

Xataka Android
Twitter for Android lets you turn on the chronological order, we tell you how
Source: english
January 15, 2019