don't plan a sequel, but also to expand the current community and release the game on the new machines.
Ubisoft has held Rainbow Six: Siege Pro League Season IX Finals in Italy, and during the event, the director Alexandre Remy commented at this time there are no plans of a sequel to Tom Clancy's Rainbow Six Siege -or a title that is his successor-. In contrast, want to take your game to the next generation of consoles.
"we don't want a sequel at all. The reason is that we do not want to segregate our community between different platforms. In an ideal world we would like that players of all platforms could play together.", a policy which they want to bring to the next generation. Ubisoft had already confirmed that studying the game crossfire.
"We wondered how to make the player base of Siege be able to migrate -if they want to migrate, but also how to do this as cheap as possible -more than to buy a new version, or using backward compatibility. The strength of any multiplayer is the size of your community, and I think that we have to make it possible for when the new generation are treated as a powerful PC compared to another PC".
Video: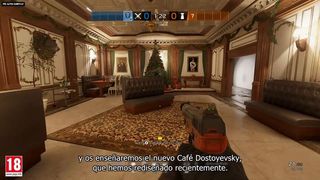 Tom Clancy's Rainbow Six Siege is launched in 2015, and since then the number of players has not stopped growing. At the end of 2018 surpassed the 40 million players
Ubisoft wants to take the Rainbow Six: Siege to the new generation
Source: english
June 3, 2019