it's hardly a reprehensible career of Leigh Whannell in the film genre will account for successes, starting his adventures as a writer and author of sagas so profitable and popular such as 'S' or 'Insidious'; having seen this last his debut as a producer in a third installment, subtitled 'Chapter 3' that, despite not being at the level of the original, showed that the australian had taken advantage of his years with James Wan learning from the master of terror.
With 'Upgrade', his second feature film as director and writer, Whannell leaves the horror to a side to be delivered to the science fiction in a fantastic thriller of revenge, full of action that embraces the best of two eras: a past in which the simplicity, the violence and the self-confidence adueñaban of this type of products, and a current one in which the technical advances allow a formal sophistication you feel the wonder of this entretenidísima and frenetic genius.
'Upgrade' gives you everything you expect from it, and even more. On the basis of its simple and can be something trite, but extremely attractive script, set in a future in which the gains of biotechnology in human are the order of the day —shotguns grafted in arms, even—, Whannell is left to carry to provide a divertimento difficult to imitate, is not afraid of taking chest to lay claim to your spirit, B-series while dislodges jaws with your bill of first level.
Because, together with their notable special effects —truly amazing for a production with less than five million dollars of the budget— and to your successful treatment visual, dominated by a few primary colors saturated that they wear to the perfection the tacky futuristic aesthetic of the film, 'Upgrade' delights the respectable with a bloody festival of action watering their ephemeral 100 minutes of footage with some footage amazing.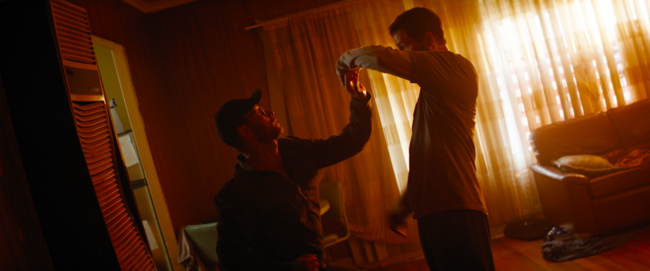 In this way, the risky, gimmicky and very effective work planning and camera of the director joins a choreography of fight unique and the interpretation of a Logan Marshall-Green —aka "the other Tom Hardy"— which boasts a body control admirable to give place to a wild show for over eighteen years dynamic, flashy and possessor of all the originality that lacks its history.
If all this we add a tone that manages to achieve a perfect balance between the impostada and almost cynical solemnity characteristic of the films of this court with a sense of the comedy hilarious and self-conscious, it is more than understandable that has been raised with the Grand Prize of the Public at the Festival of Sitges.
Because the 'Upgrade', with just their intrigue, and the string of corpses that it leaves to its passage, is revealed as the pastime ideal to enjoy in a relaxed atmosphere, between laughter, cheers, applause, and so looking forward to have a good time as that seems to have had Leigh Whannell while filming that could become a new cult classic.
we Also recommend
'Suspiria': an imperfect and risky work of art
'Zenith': Gaspar Noé's most vibrant and hedonistic is also the most superficial
Washing machine with steam function: what it is and how it should be used
–
The news 'Upgrade': a great festival of action, sci-fi, destined to become a cult classic was originally published in Espinof by Victor Lopez G. .

Espinof
'Upgrade': a great festival of action, sci-fi, destined to become a cult classic
Source: english
October 15, 2018