One of the innovations that will find the devices Pixel and Android One after upgrading to Android 9 Foot is well-being digital, a series of tools that will allow us to disconnect from our mobile phones.
One of the tools that we find in well-being digital is the sleep Mode, and is the perfect choice for our mobile us remember that it is late and we have to go to sleep.
sleep Mode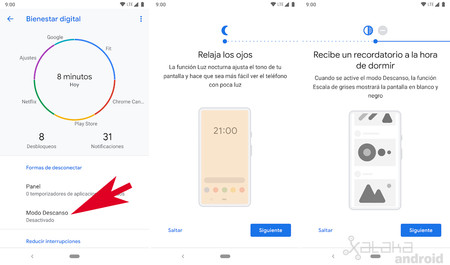 To enable and configure this feature as you just have to go to Settings > well-being digital > sleep Mode. In this way is what allows us schedule our Android device to activate the function grayscale and the way do Not disturb. It also allows us to schedule separately the night light.
The function gray-scale what that does is put the screen black-and-white, as a reminder that we have to go to sleep. To relax the eyes function night Light adjusts the screen to a tone amber adjustable, so, bother less the screen when there is little light. Both modes can be activated at the same time to have the display in monochrome and the tone of amber.
do Not Disturb
The rest Mode by default activates the do Not disturb mode, which is configured from the Settings > well-being digital – > do Not disturb. This is the mode that mutes notifications, calls and messages. There you can customize which contacts you want to receive calls, messages next to the types of events and notifications.
well-being digital
Varies depending on the device.
we Also recommend
How to activate and use gestures for Android 9 Foot
How to listen to the radio on your speaker Google Home and Home Mini
Speakers smart: a market in full maturity
–
The news well-being digital: how to enable and configure the sleep Mode of your Pixel, or Android One was originally published in Xataka Android by Cosmos .

Xataka Android
Well-being digital: how to activate and configure the sleep Mode of your Pixel, or Android One
Source: english
January 10, 2019