The popular messaging client WhatsApp gives a washing of face-to-settings of your application, with a new interface that from today you can try using the last beta version.
The new settings of WhatsApp now have a design much more clean, removing the separator lines between sections and adding new icons to make it more visual. To make it more intuitive to also be displayed below the text section is a small summary with the most important options.
settings in WhatsApp
The organization of the settings has barely changed, only with some small changes of order in some options, but most options remain the same.
the main screen of The settings of WhatsApp looks like this:
Profile: to change the name, state and picture.
Features: to change the privacy, security, number.
Chats: backup, history, background of screen.
Notifications: sounds for messages, groups and calls.
Data and storage: use of data, auto-download.
Help: FAQ, contact, and privacy policy.
Invite a friend.
Features
In the section Account we find the following sections:
Privacy policy: customize the privacy of our photo, information, status, read receipts, contacts blocked and time of last connection.
Safety: activate security notifications.
Check in two steps: to protect our account with a PIN.
Change number: to migrate our account from WhatsApp to a new mobile phone.
Request info. my account: to see a report with all the data that WhatsApp has on you.
Delete my account: to terminate the account of WhatsApp.
Chat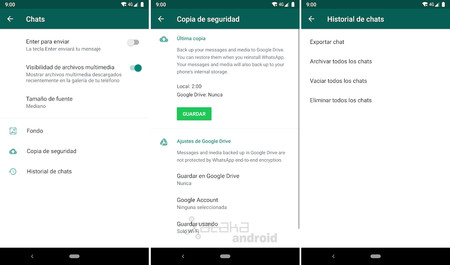 In the section Chats we can customize to perform the following options:
Activate Enter to send a message.
Disable visibility of the multimedia files in the gallery.
Customize the background of conversation.
Configure the backup.
Manage our chat history.
Notifications
In the section notifications we can customize the sound, vibration and LED notifications of private messages, groups and calls.
and Data storage
In the section and Data storage we can consult the statistics for use of data, manage storage usage and configure the automatic download photos, audio, videos, and documents.
Help
finally, in the help section we can see the frequently asked questions, contact your technical service or consult the terms and privacy of the service.
WhatsApp Messenger
we Also recommend
The display of the mobile has been devouring chassis and sensors, but it has not been easy
How to restore a backup in WhatsApp for Android
How to find stickers on WhatsApp
–
The news WhatsApp renews its menu settings: these are your keys was originally published in Xataka Android by Cosmos .

Xataka Android
WhatsApp renews its menu settings: these are your keys
Source: english
February 12, 2019