Xbox Family Settings the responsible adults of underage players will be able to limit the time of play, to block products that are not suitable for their ages and view a report of your activity.
Xbox has launched today a new application for mobile devices with iOS and Android; it is Xbox Family Settings, an app that allows parents and legal guardians to manage the activity of the players under age in the family of Xbox consoles. This tool is in a preliminary stage but it already allows you to set a time limit of game, score, content filters by age, and adjusting the communication with the rest of the users.
Limit time of play, to block content that is not appropriate, and view activity reports
One of the features of the Xbox Family Settings allow to the responsible of the minor set limits of screen time for each day of the week. For example, explain from Xbox, can mark a time limit more lax during the weekends and the other more reduced between week, when the children have to go to school.
you can Also use this app to filter content based on the age of the child in question: if the adults make that the age of the creature is eight years old, this person will only be able to play titles with up to PEGI 7, it being impossible to play games with an age rating higher, since they will be locked.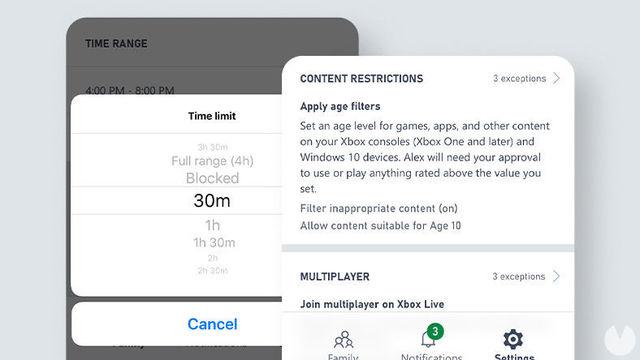 Another option available to users of the Xbox Family Settings is to adjust the game and the communication of the underage player, blocking full access to games and communication with unknown players, by limiting the access to only the friends that you have on your list. This is editable, so you can zoom when the child grows up or in other profiles of other members of the family.
As an additional option, this app allows you to check a report daily and weekly activity of the child of age so you know what to spend their time on the Xbox consoles. In the future, when the application ceases to be in preliminary phase, users will also be able to see the list of friends of the creature and manage it by accepting or rejecting friend requests that you receive. These functions will arrive in the final version of the application which is expected to be released this year.
Xbox launches the app Xbox Family Settings to manage the activity of minors
Source: english
May 27, 2020