Improvements in the camera performance, and more.
Playtonic Games has announced that is now available a significant update of Yooka-Laylee consoles -the PlayStation 4 and Xbox One-. Coming soon will be available on PC.
Among the new features includes new music for the pause menu, new camera mode manual, improvements in the behavior of the camera, changes in the design of all the arcade games, fast-forward dialogues and break cinematics, improvements in the control of the cart and its hitbox, optimized performance and more. you Can get throughout the listing, and errors corrected, official site.
Video: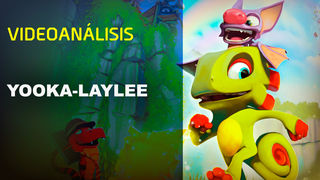 Yooka-Laylee is now available on PC, Xbox One and PlayStation 4. The game has been criticized and praised for its gameplay and approach as a direct heir of the platforms of Rare in the late 90's. Not in vain, this is exactly what was proposed Playtonic -a studio founded by former employees of Rare – in its funding campaign on Kickstarter. Soon to be released Switch.
Yooka-Laylee gets a major update on consoles
Source: english
August 10, 2017