ZTE is one of these Chinese brands that have always been there for those who fall into the temptation to buy one of their phones. Quietly, slowly they have been getting stronger bets away from typical Chinese manufacturer and traditional approach, but without ignoring competitive prices. One of the earliest examples is this ZTE Blade V7
While they made a very strong commitment to high-end with the ZTE Axon 7 to compete with more traditional manufacturers, the Chinese manufacturer does not leave out the middle range, giving a design away from look cheap and good performance. ¿Fulfill this ZTE Blade V7 with these promises? In this analysis we will try to dispel any doubt
. <! - More ->
Technical Specifications
We'll start by making clear that, as mid-range, does not have the specifications most advanced , although in some respects it may have made an improvement, it is best not be entirely by this section to decide on this mobile. However, and to have an idea of ​​how it is, we leave a nice table
| | ZTE Blade V7, specifications |
| --- | --- |
| physical Dimensions | 146 x 72.5 x 7.5 mm Unspecified |
| Display | 5.2 inches |
| Resolution | 1,920 x 1,080 pixels, 424 dpi |
| Processor | MediaTek MT6753 Octa-core 1.3 GHz |
| graphics Processor | Mali-T720MP3 |
| RAM | 2 GB |
| Memory | 16GB + microSD up to 256 GB |
| version | Android 6.0.1 Marshmallow |
| Connectivity | LTE, Wi-Fi 802.11 b / g / n /, WiFi Direct GPS with A- GPS Bluetooth 4.0 A2DP Radio FM |
| Cameras | Rear: 13 MP with auto-focus detection phase, flash LED dual-tone, HDR and 1080p video Front: 5MP |
| Battery | Li-Ion, 2500 mAh |
| access to Google Play | Yes, standard |
| Starting price | not available |
The processor comes in this Blade V7 is a MediaTek MT6753 a Octa -core 1.3 GHz and 64 bits, as discussed below, is perfectly able to move almost everything with ease. Perhaps the only downside of this type of processors is the subject of support, but in terms of power is more than compentente in the day.
To manage the multitasking we 2 GB of RAM that although it is below the current upper-middle range, will show be sufficient for most users. As for internal memory we have 16 GB expandable via microSD cards up to 256 GB . Of those 16 GB we can have available about 11 GB for our use.
The screen of this smartphone is in the standard for many users who do not want anything too big with a size of 5, 2 inches and FullHD resolution that will be for many demanding users in this area more than adequate. The technology of this screen is IPS.
In terms of connectivity, we find the absence of NFC and fingerprint sensor, which, being a mid-range, you can start required. As for things you do have, we see the FM radio, connectivity LTE, Dual SIM if you do not use microSD card (the second slot is hybrid), Bluetooth 4.0 and GPS with A-GPS.
The Blade ZTE V7 is a smartphone range with a specification rather standard, but misses 1GB extra RAM rarely. Surprise your autofocus with phase detection and FullHD screen for its price
the cameras will see in this device are 13 MP at the back and 5MP in the front . The rear camera has a dual LED tone and phase detection autofocus and video recording to 1080p. The autofocus with phase detection is something that normally would on more expensive phones, but we'll talk later about this.
Within this terminal is a battery 2500 mAh short craved watching screen resolution. Discussed later in this section, but I can say that is not as bad as it sounds, although it can not boast much in this regard.
It is not a mobile that stands out a lot in terms of hardware is concerned, it may be striking the phase detection autofocus and full HD screen, but it also has elements that are somewhat lower than the most direct competition. In this section is quite balanced , nothing remarkable for good or for evil.
Design very attractive and comfortable
recently, ZTE is giving you for providing enough antención the design of its terminals and in this Blade V7 is clear. For a relatively cheap smartphone, its physical appearance gives the impression of being more expensive, and this time bet on the metal to the back.
It is a phone that, although not as compact as LG G2 (same screen size), you will hardly be too great. It is very pleasant to grip, although it is also slippy by the material used. However, it notes that it is a mobile that although thin, you can grab him firmly without fear because of the feeling of strength it gives.
Looking back at the front dominated by the 5.2 inch screen with the 2.5D effect, we see the typical top (camera, sensor, speaker calls, LED notifications …). Under the screen we see, when off, the round start button, although when you turn it on and pressing its capacitive buttons, are the other two . They are illuminated in blue.
The design of this Blade V7 is very elegant, with a metal body and very comfortable to hold. Calls anteción its power button too soft and slack volume buttons, which remain some of that feeling of strength that occurs when you have it in hand.
In the back we see the camera, which protrudes slightly below the flash LED dual-tone logo and ZTE. At the bottom edge the microUSB connector see perfectly centered and two slots, one of which is the speaker (the left one) and the other would microphone. At the top we see the headphone jack and the canceling microphone.
On the right side we find the tray nano SIM (one of the slots can accommodate a microSD) and the power button almost centered in a fairly comfortable position for most people and with a slightly different texture. This button protrudes enough and is a bit soft, so more than once will ignite the screen inadvertently.
On the left side we see only the volume buttons, which also stand out enough, this time a little more pressing hard (I say that as perfect). In the case of these volume buttons, by touching dancing lightly in your position, which gives you a feeling of not being fully engaged.
The beauty of this terminal is very difficult to discuss, I see nothing in the box, and gave the feeling of being attractive, and pick him up and carry in your pocket these days I felt pretty comfortable with it . light enough reasonable size and weight as not too noticeable.
zte-blade-v7-design
href="https://www.xatakandroid.com/galeria/zte-blade-v7-diseno/2″>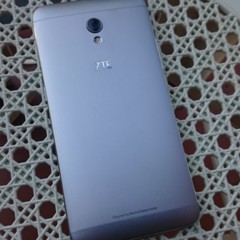 FullHD display with good outdoor visibility
As we have I reviewed above, it is a screen 5.2 inches and FullHD resolution with a density of 424 ppi, which, if you consider its price, is quite positive. The screen technology this Blade V7 is IPS and outdoors, with the brightness almost to the maximum, has good visibility throwing very good .
Angles viewing this screen are very good even with minimum brightness, no trace of a darkening of the remarkable image. In terms of sensitivity, it is quite acceptable for a mid-range, I have not noticed these days you had to press harder than necessary.
Whether indoors or outdoors, the screen has lived up to expectations with good viewing angles and brightness high enough to see the contents under direct sunlight. In this aspect, almost no users will be disappointed.
A remarkable performance and enough autonomy to reach the end of the day
as a reminder, say that the processor is inside is the MT6753 of MedaTek, 8-core 1.3GHz and 2GB of RAM. In this regard should not drag problems, and the result is that the interface has no trouble moving, as neither does to go through the settings or surf the web.
MediaTek is improving slightly a little in performance is concerned, and it seems that this processor is able to make enough to move a FullHD screen without problems at any time. The MediaTek processors are characterized, above all, to provide sufficient experience and spend the least possible battery.
I admit that this processor gave me some confidence, but these days I've tried and I've been happy, because even in games like Asphalt 8 graphics full is able to move well , but not with all the fluidity of a high-end processor. In short, the performance is good, what is already a mystery to many is how it will work after a year of use.
zte-blade-v7-benchmarks
href="https://www.xatakandroid.com/galeria/zte-blade-v7-benchmarks/4″>
in the section of autonomy, their 2500 mAh , although short on paper for a FullHD screen, is able to reach the end of the day with about 3 and a half hours of screen in which you have used for typical WhatsApp, social networks, surf and play from time to time (half an hour or so).
No doubt the Doze mode is doing much good to these terminals incorporating a battery something short, and it is something that is noticeable in day to day. For users who often give enough work to the terminal, especially in games, possibly this terminal does not have enough autonomy to reach the end of the day on.
If you are a user who will give a more good basic mobile (as said before social networking, chat, some navigation …) you will come easily at the end of the day with, more or less, 30% of battery, but if you give much cane with the games we have really difficult and should you bet on another terminal more battery
| Benchmarks | ZTE Blade V7 (MediaTek MT6753) |
| --- | --- |
| 3DMark | Ice Storm Unlimited: 6929 |
| Geekbench 3 | Single-Core: 600 points multi-Core: 2756 points |
| AnTuTu | 36,020 points |
| Epic Citadel | Ultra High Quality: 24.1 FPS |
| Vellamo | Chrome Browser: 2,393 points Metal: 854 points Multicore: 1,520 points |
| Quadrant | 18.575 points |
A good camera that falters pretty night
As a reminder, at the back have a camera 13MP autofocus with phase detection and LED flash dual tone , while before we have a camera of 5 MP . The rear camera can record video with a maximum resolution of 1080p, which can be expected of a mid-range.
During the day both chambers behave quite well, especially the rear, in addition to make great pictures, it makes them pretty fast. As expected, the autoefoque phase detection works well, making the process of focusing is very fast. The level of detail of the images is good , but without much fanfare.
Macro mode delivers better images with a good level of detail, without reaching the level of high-end but a standard user will be happy in this regard. Day pictures have a good quality to immortalize those moments you do not expect to arrive
night photos are a bit dark if the light of the street lamps do not give directly on the object. This may look good in the picture there are a couple of paragraphs down, where the soil is well lit, but the houses, a little later, remaining in the shadows when the human eye would see them clearly. The flash, incidentally, is quite powerful, so you can save more than one situation.
The front chamber, at night, has the same problem, just do not have flash. Instead, use the brightness of the screen, but there must be a lack of coordination because the photo is made after off the screen. Hopefully the camera of a waver mobile at night, but would have been nice that captures more light.
As for the camera interface of this Blade V7 it is not the prettiest, but nor it is horrible. A hand you have the HDR modes, burst, flash settings and a button. If you want to choose a particular way, you must go to settings, which should be a little more affordable
photo-zte-blade-v7
href="https://www.xatakandroid.com/galeria/fotos-zte-blade-v7/2″>
Software with many Chinese brushstrokes
This basic device comes with Android 6.0 with the security patch March. This operating system runs under the layer of ZTE own customization. In this case, as in many Chinese, we find the absence of an application drawer, so we'll have to make do with the initial additional screens.
The interface has a number of added that might be interesting for some. For example, if you drag up on an initial screen will have access to a section of customization to change wallpapers, icons, transitions, etc. It retains enough of Android pure, and paragraph settings or paragraph recent apps.
You can customize the capacitive buttons , since those who are on the sides of the center are few points, so that you can swap the position of that function would go back and multitasking. There is also a cover so that would change the layout of the icons when you have one of their holsters start
in general move through this interface is not a bad experience, no lags of any kind or significant delays when entering an application. Double tap to turn the works quite well screen, although you may occasionally fail, to me, at least, has just ignored me once.
As for bloatware, there is an amount ZTE apps excessive beyond supporting one of gestures and movements, a file manager or browser itself. As a keyboard, in addition to Google, it comes Switkey preinstalled, which, as a user of this app, thank you.
Of the 16 GB of storage can use something less than 11 GB , a figure that approaches the standard, but if we can pull craved insufficient microSD card. Beyond customizing one Asian Therefore, the experience with this customization is not bad.
software-zte-blade-v7
href="https://www.xatakandroid.com/galeria/software-zte-blade-v7/2″>
href="https://www.xatakandroid.com/galeria/software-zte-blade-v7/4″>
ZTE Blade V7, opinion Engadget Android
that a mid-range mobile is no longer meant to be a disaster in terms of user experience, and this is so for about two or three years ago. In fact, for many users who are going to give a little more demanding use than ordinary people, A mid-range offer everything you are looking for .
We are talking about a mobile does not reach the 300 € and whose performance will be enough for many. The ZTE Blade V7, and focusing on this terminal, is quite balanced, with several points that can be above average as the screen visibility, and others is something underneath, like the camera at night.
Perhaps in some of its specifications it is quite short, as the issue of the RAM, but these days has shown that they can manage and that your layer of customization just clutters This aspect. How to grow old this terminal? This is a mystery, because to know it would have to spend a year with him, using it on a daily basis.
For most people this terminal will be more than enough, although each user must analyze itself same if this Blade meets V7 requirements to be bought enough. In conclusion, an attractive, functional and without many frailties, but better terminal not take pictures at night or I crush games if you want the battery to last you until the end of the day. Here are our final notes:
6.8
Pros
Design pretty attractive
Focus quite fast in photographs
Android Marshmallow series
against
the clearance of the volume buttons
The camera night
No fingerprint sensor and NFC
–
The news Blade ZTE V7, analysis: a fairly balanced midrange was originally published in Engadget Android by Santiago Luque .

Xataka Android
ZTE Blade V7, analysis: a fairly balanced midrange