Launch Trailer for PC Mayan Death Robots
The game is now available via Steam
Soedesco and Sileni Studios have announced the disposal of Mayan Death Robots , a game in which robots giants, murderers and ancient alien landed on Earth for entertainment and enjoyment in the form of television. Href="http://store.steampowered.com/app/347470″ title is now available on Steam at a price 14,99 ?? .
"We designed to make this game more fun if you play with a friend in the local multiplayer mode , so I really recommend you to do that if you can" He said Karel Crombecq of Sileni Studios . "You can play against the AI ​​and have a good time, but for the experience we wanted to give you must concentrate on hitting the fucking shit of a friend nearby. Enjoy!"
During the trailer, with enough humor, documentary perspective of mythology and atmosphere surrounding the game occurs. Mayan Death Death Robots for Robots , giant robots, aliens and murderers have come to earth to do a TV show , awaken the gods and fight the conquerors. Players choose their robot and launch their artillery against friends in local multiplayer or can prove their worth fighting machine. The console versions come later
Video.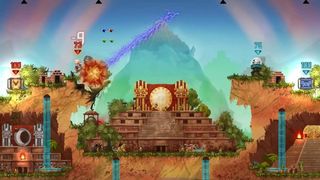 (Visited 1 times, 1 visits today)
Launch Trailer for PC Mayan Death Robots