If you have a mobile Samsung more or less current, you use WhatsApp and you have a memory card, you want to investigate if your…
If you have a mobile Samsung more or less current, you use WhatsApp and you have a memory card, you want to investigate if your mobile phone includes the function Move to SD card. It is a part of the Storage Saver, or Liberating memory, a tool developed by Samsung R&D in India. Use: release the internal memory of your mobile phone, moving photos from WhatsApp to the SD memory.
even Though WhatsApp recently has given us more control over the imprint that you leave on our mobile phones, including the ability to control and clear the data of certain chats easily, at the time of the truth WhatsApp ignores the SD card and store everything in the internal memory. This small tool, Samsung attempts to solve the problem.
do I have this in my mobile?
Move to SD Card seems to be included in some Samsung phones, if you don't have an official way to turn it on, because it does not show in the app drawer. To check if you have it, you'll have to go to Settings – Applications-enable Show applications, and search memory Optimizer. Keep in mind that if your mobile is in English, it will be displayed as a Storage Saver.
what if you don't have it? In such a case, it will always be APK, although we cannot guarantee that it will work on all Samsung phones. The version from APKMirror requires Android Lollipop, although the latest versions need a Nougat or higher. In general, if the app will not give you an error, and will not let you complete the installation.
How to enable this function
As mentioned before, this memory optimizer is a little bit for free and it integrates with Smart Manager (or Maintenance of device, as it is now called). The only way to activate it is launch your activity applications such as the Quick Shortcut Maker or the same Nova Launcher.
In Nova Launcher, you must add a new widget of your own Nova (above), called Activities. It will take a while to load, but then you will see a list of the apps installed. There you will find memory Optimizer, tap the arrow icon to expand it and choose Move to SD card.
By the way, if you have curiosity of what the other features as APK residual, Applications, memory Optimizer or Program cleanup, unfortunately none of them can be launched except memory Optimizer (the one that has a distinct icon).
memory Optimizer shows you a list of duplicate images, a feature also present in Maintenance of the device, so you don't have a lot of interest. After you create the shortcut, lor you can open it from the desktop, like any other application.
How to use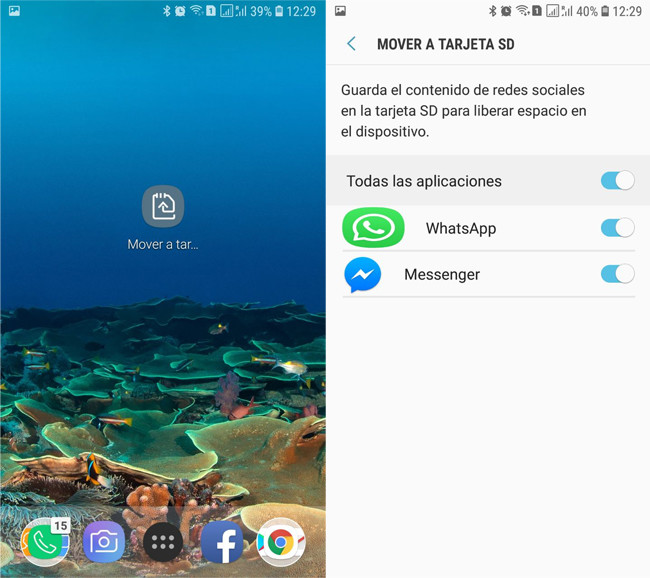 Opens the tool and you will see that very complicated it is not: just a button to activate the function in the installed applications are supported. These are WhatsApp, Messenger, Hike, Imo and JioChat, although in the application it shows only those that are installed.
For the rest, there is not much science. If you activate the function in an app, your files folder is saved in the SD memory instead of the internal memory. If forms part of many groups where we share massive amounts of imagery and video and the internal memory of your mobile phone is poor, this can save your life.
After checking the option, to start the copy in background the contents of WhatsApp, from the internal memory to the SD card. is no indication visual, so basically you'll have to wait an undetermined period of time, depending on how many images and videos you have on your WhatsApp.
The utility copies the vast majority of the content, but for now it seems to forget about the temporary files of the united of WhatsApp, which are kept in the internal memory. Even so, the savings of internal memory can be important, as you can see in the screenshots above.
An ingenious solution to a problem that WhatsApp does not want to solve
Probably the best thing about this tool is that does not affect you to use on WhatsApp, that is still running without problems and showing pictures and videos of the chats unaltered. The new photos you take or receive in WhatsApp, they will be going directly to the memory card.
Taking into account that the storage of the files that you send and receive on WhatsApp can accumulate a considerable amount, and that the only option official that you have is to clear data, this tool is an interesting tool and effective fix a problem that WhatsApp has ignored for years: the use of storage without the control of the application.
Storage Saver
Varies depending on the device.
In Xataka Android | How to free up space in WhatsApp easily and quickly with its new version
–
The news Move to SD Card, a utility hidden Samsung to that WhatsApp will not fill the space of the mobile was originally published in Xataka Android by Ivan Ramirez .

Xataka Android
Move to SD Card, a utility hidden Samsung to that WhatsApp will not fill the space of the mobile
Source: www.xatacandroid.com
July 24, 2018
Next
Random post