Most recent:
'Crisis on Infinite Earths' will also have the Lois Lane for 'Smallville' Erica Durance joins the crossover Arrowverso
San Sebastian 2019: 'The decision' is a tender celebration of life supported by a great cast
AGENCIES
scammers are especially active during the holiday period.
WiFi access points rarely are suitably protected, so that cybercriminals can intercept data easily.
it Is advisable to avoid shopping and banking online, through networks public WiFi.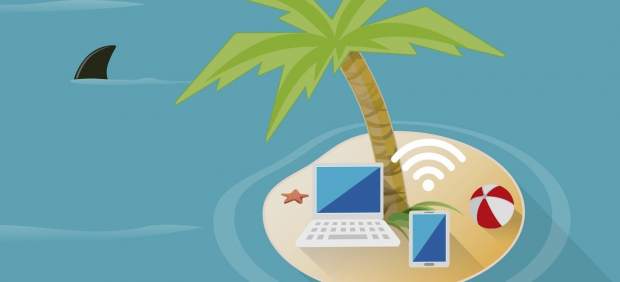 The sending of photos and personal videos through WiFi networks free of hotels, restaurants and airports assumes, at times, take risks.
cybercriminals are displayed especially assets during the holiday period, since this is very conducive to the collection of personal data from personal files in real-time.
WiFi access points rarely are conveniently protected, so that the crooks can be easily intercepted data traffic that circulates through them, from passwords to credit cards and all kinds of personal information.
this is why tourists should avoid shopping and banking online through WiFi networks in public.
Tips for the holidays
1) not banking, or shopping 'online' from WiFi networks public: they Are the access point to the internet favorite of all the tourists, but these free connections should be used with certain precautions, since we are unsafe by default, and hackers can intercept very easily passwords and details of bank cards of those users who used when buy 'online'.
In case of doubt, navigate by using the data network of the mobile operator is a much safer alternative.
2) internet Cafes and public computers: The majority of surfers use on a regular basis in your vacation, but it is impossible to have a clear idea of the security settings, the protection or the possible infections of the public computers that, as a general rule, you are not adequately protected.
it Is especially recommended not to make bank transfers or shopping 'online' from internet cafés or similar, and browse in incognito mode to avoid the storage of navigation data. Once you have finished browsing, you must close the sessions of those services to which it has been entered as a registered user, low risk of compromising personal information.
3) 'Software' of security: Today, it is the barrier more effective against cibercrimen. It is recommended to install one in each device, whether portable, 'smartphones' or tablets.
4) 'Smartphones' with protection anti-theft: In case of loss or theft, you will be able to locate, lock or erase the stored information in the 'smartphone' or tablet. It is a common feature of anti-virus solutions for mobile phones.
5) Patches: operating System, web browsers and other programs. Of course, this also includes the 'apps' installed on 'smartphones' and tablets. Only with this, will have been closed many of the security breaches most exploited by cybercriminals.
6) Use social networks with caution: cybercriminals use information from these platforms to create maps of vacant homes in the summer. It is recommended to share data about the holidays when it has been returned, this will only be done privately with family and friends, and they do not give clues about the dates of departure and return.
7) turn Off wireless connections: Services such as Bluetooth, WiFi or GPS could facilitate potential cyber-attacks.
Networks of public WiFi in summer: the perfect bait to get stolen personal data
Source: www.20minutos.es
July 1, 2017
Next
Random post