Most recent:
NBC Universal announces Peacock, its streaming service that will arrive with reboots of 'Battlestar Galactica' and 'Saved by the bell'
The Funko Pop will be the movie of the hand of Warner Animation
100% of games Arstotzka is available in several languages.
Papers, Please went to digital distribution in August last year, but it was only possible to play it in English. Yesterday was presented in Madrid the Spanish translation of the game, work Monchan Joshua and Ramon Mendez . With the game update one hundred percent of the games developed by Arstotzka in 2013 will be in Spanish. In addition, you can play on Linux in addition to Mac OS and Windows.
Papers, Please puts you in the position of a customs manager must decide who enters the country and who is not relying on laws and rules to be indicating you.
The event, featuring a similar game with bombastic language itself a communist state that defined translators as members of the secretariat of location setting Arstotzka, attended by videoconference Lucas Pope, creator of Papers, Please.
After presenting the new game update, which opens to computers with Linux and takes him into several languages ​​(German , Italian, French, Portuguese, Japanese and Russian as well as Spanish), Pope answered questions about his work. Was somewhat weary of Papers, Please and reported that his intention is to develop fast now a game that is free, given that the success of his first game as an independent developer will not run hurry to make money with their next titles. "Those who are disappointed not feel much because there will cost them money," Pope said.
Also indicated that his desire is to continue working in independent games you can experience and he was surprised by the success Papers, Please ". thought it would sell a couple of copies and then I devote to something else Not nearly what I imagined would happen," said

Pope has had complete control of the game, music, graphics, programming, design? to translation has depended on him. For it is more to your liking adecuase designed a proprietary tool that translators praised for its comfort and efficiency. The author's intention is to market this game software.
Monchan asked by Pope gave the first indication that they translate, "not to use the word 'comrade'." The reason is that Pope wanted the game were directed into the widest possible audience and in a world of fiction, to be associated with Russia "so I find it interesting that, although the game does not use the word comrade people still associating that country. This is something that fascinates me, "he replied.
Inspiration for the game came from his own experience. Pope noted that travels a lot and has gone through many customs immigration officials watching how they work "and thought it might be interesting to take it to a game." Developed mechanical and when he saw they were funny, I was adding layers to dress with an interesting history.
All with a political statement "not anything too concrete. Generally, the game is rather vague, and that the player fill the gaps with their imagination. "Before developing
Papers, Please, Pope worked several years in Naughty Dog. In this study commissioned blockbusters learned to cut what is not working, something that has been helpful in this independent experience.
Papers, Please is available on Steam, GOG and Humble Store, or game page the price of 9 euros. Pope does not think to take it to consoles, but is trying to find other suitable control system to port it to iPad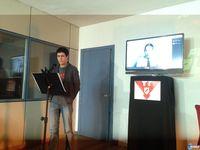 Vandal
Recap: The Spanish version of Papers, Please presents
Source: www.techradar.com
February 12, 2014
Next
Random post