RetroEuskal 2016 is held from 22 to 25 July
With special attention to the Zilog Z80 and adventure Colossal Cave.
RetroEuskal hold its thirteenth edition of Friday, July 22 to Monday July 25 at the Bilbao Exhibition Centre of Barakaldo.
Those attending the veteran Euskal Encounter will enjoy their scheduled activities at the booth of the RetroEuska l in a year that pays homage to the microprocessor Zilog Z80, origin and evolution of adventures – Colossal Cave 1976 was the first conversational adventure – or the duel between chess champion Garry Kasparov and supercomputer Deep Blue in
1996. there is also room for video game tournaments , dedicated this time to Street Fighter II and action games first-person 3D and Quake . In the area of ​​Juegódromo it can be play consoles, computers and recreational classic.
All detailed information of activities and schedules can be found in the official website. page Euskal Encounter however it is reported depleted reserves for pre-registration, so that a waiting list is open.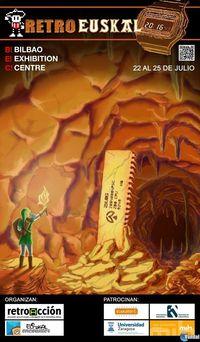 Vandal
(Visited 1 times, 1 visits today)
RetroEuskal 2016 is held from 22 to 25 July