Sora is already available in Japan as one of the invocations of the World of Final Fantasy
Thanks to a free update.
Square Enix has announced that World of Final Fantasy just received in Japan, a free update to include Sora, the protagonist of Kingdom Hearts, as one of the possible invocations that we will use throughout the adventure.
The invocation of Sora
Video: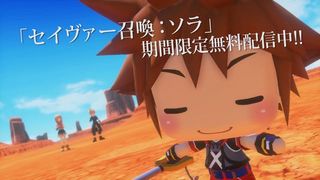 This additional content will be available until march 31, and, for the moment, has not been given a concrete date for its launch in the united States and Europe beyond that will be this winter.
If you follow the same pattern as in Japan, we should wait for the arrival of Sora for the 24th of January, the same day that Kingdom Hearts HD 2.8: Final Chapter Prologue it will be sold in our territory.
The world of Final Fantasy
World of Final Fantasy is on sale now in PlayStation Vita and PlayStation 4. In him we travel through a magical world known as Grymoire and engage in friendship with dozens of characters typical of Final Fantasy.
We offer a role-playing adventure traditional round-robin in which the capturing and training of monsters will be essential for progress. If you want to discover what it has seemed to us in Vandal, we encourage you to consult the analysis that we published at the time.
(Visited 1 times, 1 visits today)
Sora is already available in Japan as one of the invocations of the World of Final Fantasy