The Gen 3 of Pokémon Go will arrive 'soon' and there will be new battles in 2018
The head of Niantic confirms the upcoming changes.
The Generation 3 Pokémon Go is about to arrive. Not only is there numerous indications of it since a few days ago, but the head of Niantic Labs, John Hanke, has been confirmed a few hours ago in an interview with the magazine Business Weekly.
This generation 3 are 135 new Pokémon that were added to the saga with the release of Pokémon Ruby and Sapphire (and later Pokémon Emerald) on the Game Boy Advance, back in 2002. With them, the application will have a total of 386 Pokémon.
The next ace in the hole
to the question what would be the next to the application, which became a phenomenon in 2016, but it still maintains a great popularity, Hanke has been said that the Pokémon that still have not exited they are your ace in the sleeve. "The next secret weapon will be the launch of the next generation of Pokémon," said Hanke, adding that "I hope the players see it soon." The generation 2 was added in December of last year gradually,, and there have been no new Pokémon since then. The great novelty of the last few months have been raids, who have finished serving to capture the legendary Pokémon.
"A new battle mode"
at the next question that all fans of the game want to do, when will the battles between players, Hanke said that the company is "planning the development of a new battle mode", without elaborating more on the matter. However, the executive has said that will not be ready until 2018.
in Addition, Hanke said that the company was working on new ways for players to communicate among themselves, as they notice that social networks like Facebook or Discord are exercising this function to connect to the players from a same city.
Pokémon in your city
Video: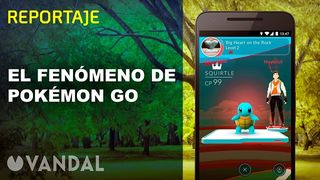 Pokémon GO is now available on iOS and Android for free, although it contains micropayments. It is a game that allows users to capture their favorite creatures, while strolling around your city. We recommend that you consult our guide to give everything in your path to become a Pokémon Master.
The Gen 3 of Pokémon Go will arrive 'soon' and there will be new battles in 2018