had Only been able to get at special events or specific as part of the Arkham Collection of 2018.
The players Batman: Arkham Knight PlayStation 4 will be able to download a new add-on content aesthetic completely free from the next 28 of January. This new downloadable content is not going to get to the other versions of the game.
Video: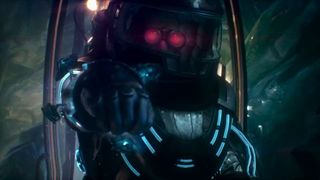 Rocksteady has prepared this actuallización for the game, but only in its version for the current console Sony. this Is the additional aspect of Batman called "Earth 2 Dark Knight".
This aspect had been able to get on a very limited basis previously. You could get with a downloadable code that was given to attendees at E3 2015 and in some regional events more.
The appearance was made rather more common with the arrival of the Batman: Arkham Collection, as it included this aspect of the series in its version for the PlayStation 4 without having to resort to codes unlockables of any kind. The build is launched in 2018, so the study has made to wait enough to the players of the original version of the title of Batman.
What is certain is that last year, Rocksteady had already promised that this aspect of Batman would become the standard version of the game to the Sony console in January 2020, which ultimately will result in the 28 of January.
waiting for the new game of Rocksteady
We have been waiting a long time for Rocksteady and Warner Bros. announcing the new draft of the study. Rumors have pointed to both a game of the Justice League as the return of Batman. It has also been speculated with a game focused entirely on Superman. What is certain is that there have been rumors of almost everything, including the Suicide Squad.
What is clear is that fans have spent years waiting for the return of the study with a title in the universe of DC Comics after the success achieved with their series of games focused on Batman. The rumors have been accumulating and in many cases have been denied in full by the studio or Warner Bros.
After the absent from the last E3, there is now hope that an announcement is near, perhaps in the hand of the presentations for all of the upcoming Xbox Series X and PlayStation 5.
Batman: Arkham Knight for PS4 adds the aspect of Earth 2 for the hero
Source: english
January 26, 2020