A new opportunity to see what's new for Remedy.
Remedy Entertainment, the creators of Max Payne, Alan Wake or Quantum Break, have shown a new video of Control. On this occasion, does not focus on the powers of the protagonist, or the action, but that is a promotional video of the technology ray tracing Nvidia, although it allows us to see new shootings and scenarios of the adventure.
This video to GDC 2019 shows us some of the effects achieved with the ray tracing in real-time GeForce RTX, that improving the lighting and reflections, for example on a floor polishing. There are still few games that take advantage of this technology, such as Shadow of the Tomb Raider and Metro Exodus, but it is expected that in the coming years does not affect too much the performance of the games.
Video: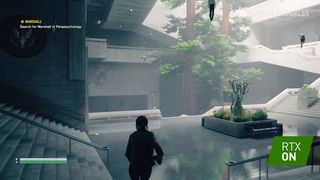 With hints of metroidvania and built around the proprietary engine known as Northlight, Control will be the focus of attention in the narrative aspect, offering the players a story starring invasions secret, powers strange, and government agencies hidden, while it glories in a structure of drive-by shootings and hedges classic among the works of the study.
you Can learn more on our full impressions.
Control shows its effects of 'ray-tracing' technology Nvidia
Source: english
March 19, 2019