Coolpad is a rather unknown manufacturer among the public since moved, mostly by China, which sold its mobile input range at reasonable prices. However, although its international presence is very discreet, have decided to move forward with phones like this Coolpad Torino we have analyzed.
Photo by Onur Binay from UnsplashThe popular...

Due to the digitization of production, we ar...

APIs are everywhere, and you have likely alr...
This is a relatively inexpensive phablet that during the two weeks or so that I've been able to analyze, it has been quite solvent in most situations. Of course, considering that its price very little exceeds 200 € , this Coolpad Torino has its shortcomings, but nothing out of the ordinary. Let's see what their strengths and weaknesses are
. <! - More ->
Technical specifications up to the mid-range in almost all
The Coolpad Torino is a phablet that you can not ask too much for little more than 200 €, but mostly spec is quite up to the average range. There is something that is missing even for the price range you have, but also can boast some advantages .
| | Coolpad Torino, specifications |
| --- | --- |
| physical dimensions | 154 x 76.5 x 8.7 mm 163 gr. |
| Display | 5.5 inches |
| Resolution | 1,280 x 720 pixels, 267 dpi |
| Processor | Qualcomm Snapdragon 415 Octa-core 1.3 GHz |
| graphics Processor | Adreno 405 |
| RAM | 3 GB |
| Memory | 16GB + microSD up to 32 GB |
| version | Android 5.1.1 Lollipop |
| Connectivity | LTE, Wi-Fi 802.11 b / g / n /, WiFi Direct GPS with a-GPS Bluetooth 4.0 A2DP Radio FM Dual-SIM (only the main supports LTE) |
| Cameras | Rear: 13 MP with autofocus, LED flash, HDR and 1080p video Front: 5MP |
| Battery | Li-Ion, 2500 mAh |
| access to Google Play | Yes, standard |
| Starting price | 216,93€ |
One of the most positive things that we are in this smartphone is that choose not to bet on MediaTek, but by a processor Qualcomm, the Snapdragon 415 , Octa-core 64-bit 1.3 GHz . One of the strong over this processor is energy efficient, something we'll see in the section of autonomy.
In this processor will accompany nothing more and nothing less than 3 GB of RAM , a lot watching your price. We also have 16 GB of storage expandable via microSD cards up to 32 GB , more or less to be expected. This microSD slot replaces one of the SIM cards, so you have a Dual SIM or a terminal with a SIM and microSD.
To view the contents have a 5.5-inch screen ** ** HD resolution, you can stay a little short for the most demanding, but we must consider the price you have and the benefit level of autonomy. The technology of this screen is, as in many cases, IPS, later discuss its quality.
If we go to connectivity, we note the absence of NFC , although happily yes we will find a fingerprint reader on the back. We also find FM, LTE, Bluetooth 4.0, Dual-SIM radio if you do not use microSD and GPS with A-GPS. Overall, it is something that can be in any mid-range.
the Coolpad Torino is a phablet midrange includes a good fingerprint sensor in the rear, but misses the NFC and comes with Android Marshmallow standard.
We go to the section of the chambers to meet a sensor 13MP at the back, an LED flash with good power and the ability to record video in 1080p. Its front camera is 5MP , enough for selfies and video calls, and this time we find no flash at this location.
Paragraph battery goes a little like in previous terminals that have been analyzed are 2500 mAh that, on paper, will fall a little short, but once again the processor will significantly improve without losing fluidity due to its not very high resolution screen.
what stands at the hardware of this terminal is the presence of a fingerprint sensor , which will soon be remarkable to be a standard. As we will see throughout this analysis, we will see a terminal with a correct behavior in many situations, but has some flaws to consider.
A fairly common design for a Chinese mobile, but quite comfortable
It is time to see the appearance of this Coolpad Torino, and we find a fairly common design in the Chinese mobile of one or two years ago. The back is glossy plastic that although note that it is plastic, it is not sleazy and feels quite sturdy in the hand. The edges, yes, are metallic.
The terminal we analyze is white (the only one available, in fact) and all the edges golden color , both sides, as the ring around the camera, and even the capacitive buttons. It is a terminal that is not too slippery, and is even comfortable on many occasions, but conscientiously do a review of this terminal.
In the front we find screen 5.5 inch , very small bezels, although tricky, because when you turn the screen we see the black edges around it, removing a tad beauty. Above the screen are the sensors, camera, headset for calls and LED notifications. Below, as I said, we capacitive buttons golden color and not light.
On the back we find the main chamber protruding very little flash LED , fingerprint sensor that sinks slightly and, at the bottom, your speaker. This back is pretty solid to the touch plastic, but keep in mind that can not be removed.
the design, visually, does not stand out from any other mobile plastic, although it is relatively comfortable to hold for the size it is.
the top we see the headphone jack and tray for two nanosim or nanosim + microSD . At the bottom edge we have the microphone and microUSB connector slightly to the left. On the right edge have the power button alone, while the left edge have buttons separated from each volume.
As for the buttons, they have a perfect tour , the three are metallic and stick it right. A curious point is that they all have a feel slightly rough , in perspective. The situation of the three buttons is very good, even if they had been one centimeter below would be better, but a matter of the size of the hand of each.
In design, beyond all those golden edges it is not for visually unremarkable, but it is quite convenient thanks to the comfort of the back, which curves to reach the edges. The front glass is curved very slightly on the sides, but corresponds to the black edges that disfigure a bit the front when you turn on the screen.
A screen at the price
as a review, we have a 5.5-inch screen with resolution HD and a density of 267 ppp , which is quite standard among phablets of around 200 €. Screen technology that we find is Q , which gives you a decent outdoor visibility, but without fanfare, with maximum brightness can have a decent view of the content.
the viewing angles on this screen are very good , to be expected in an IPS display quality, even with the brightness to a minimum, if there is no glare, you'll see the content perfectly, barely lose sharpness. The touch, meanwhile, responds smoothly in any situation and is fairly accurate, it has not been necessary to press harder or more than once.
If you are a demanding user, the resolution of this screen is it going to be short, but if you want a cheap mobile, which enjoy the content for its size and not looking very high resolutions, this screen is not going to disappoint, even in conditions where there is plenty of sunlight.
screen-coolpad-torino
href="https://www.xatakandroid.com/galeria/pantalla-coolpad-torino/3″>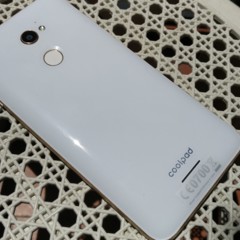 Good performance and better range
the first thing to consider is that this terminal uses a Snapdragon 415 , with its 8-core 64-bit to 1, 3 GHz, and accompany him nothing more and nothing less than 3 GB of RAM . During all these days I have found no performance problems if we consider that we speak of a phablet that around 200 €.
The fact that is equipped in the terminal processor Qualcomm is, many, a guarantee that the terminal is not going to plant the first rate (although this distinction, with improved MediaTek, and has almost no sense), and that at this time that I've had has been perfectly capable moving this 5.5-inch screen and HD resolution without any problems.
benchmarks-coolpad-torino
href="https://www.xatakandroid.com/galeria/benchmarks-coolpad-torino/2″>
in the interface, as in the web pages, the terminal has moved to perfection, although the sites, depending on the content had to load , it cost a bit, but generally will not cost you more than you can expect from this processor. In Asphalt 8 it has behaved quite well, although if you want a very smooth experience, better forget about putting graphics full .
Now comes the time to talk about their autonomy, land on which I am quite happy, because rest hardly spend any battery , and when you give normal use (chat, browsing, social networking, e …) will not be very difficult spend the day, and even reach two days. All this despite not having Android Marshmallow, of which more later.
This terminal also has the ability to use fast load , once you plug it can use this mode or normal charge through an icon in the notification bar. When using the fast charge will warn that the terminal could warm up a bit, although not to use it, this warming is rather testimonial, as I checked these days.
With the fast charge activated, the terminal goes from 30% to 100% in about an hour , a time quite acceptable. Finally remark that, on average, I've got between 3 hours and just over 4 hours of screen on each charge, depends, of course, the kind of applications you use.
| Benchmarks | Coolpad Torino (Snapdragon 405) |
| --- | --- |
| 3DMark | Ice Storm Unlimited: 7,976 |
| Geekbench 3 | Single-Core: 616 points Multi-Core: 2,453 points |
| AnTuTu | 33,796 points |
| Epic Citadel | Ultra High Quality: 49.2 FPS |
| Vellamo | Chrome Browser: 1,382 points Metal: 991 points Multicore: 1,370 points |
| Quadrant | 21.260 points |
Good camera day, noisy at night
Let's consider, first of all, we're talking about a mobile of little more than 200 € to the when talking about his photographs. First let's look at its features: behind have a camera 13MP with f / 2.2 and flash Normal LED while before we have a camera 5 MP opening also f / 2.2 .
During the day both the back and the front behaved quite well, relatively fast and with a dynamic range acceptable for the price this terminal. The level of detail is consistent with the resolution of both houses, and processing software does not ruin the photos .
As for photos in macro mode, the level of detail is pretty decent, and even to enlarge the images can be seen most smallest details right, as you can see in some of the images that we show. In general, behaves pretty good day considering its price
night life is where falters, like any other terminal, and this time, although captures a quite acceptable amount of light, we to pay the price of a excess noise . Its flash, quite powerful, can help in certain situations, but should be at a safe distance so you do not leave burned.
The front chamber, since there is no flash to illuminate the selfies, better not use at night if there is a good source of light near, and yet it is quite possible to come out with too much noise. Nor are bad points in a terminal 200 €, is rather normal.
The camera interface is very intuitive , although more than one will be a little annoying menus, when you have the terminal horizontally, not adapted to the position. In this interface, in addition to the normal modes (panorama, HDR …) Pro mode that lets you play with exposure (including time), focus or white balance, etc. .
There is also on the menu three points, ways to make long-exposure photos, GIFs or photos can refocus once removed. Many of the options are quite handy and can access them with one or two touches, but it is also true that neither has plenty of options.
photo-coolpad-torino
href="https://www.xatakandroid.com/galeria/fotos-coolpad-torino/2″>
A very personal and somewhat outdated software
Here we find that perhaps is the skinniest of this endpoint, and it comes with Android 5.1.1 Lollipop , which at this point is almost a sin, and the worst is that you may not see any updates. That aside, we find its own interface, called CoolUI, version 8.0 .
Aesthetically we find a layer without drawer applications and pretty icons. The curtain notifications can not escape their ration of customization, which include brown colors with white background. Paragraph settings is also personalized, but this time without brown icons.
As for bloatware, although there is an average amount of own apps, number of them are quite useful as Cool Butler , which is a central application management, security and autonomy. You can block unwanted phone numbers, see the data that spend apps or manage energy consumption mode. There is much to discover.
We also found a shortcut for manage your fingerprints or icon to turn off the screen directly. But there is something at the level of privacy, you may like more than one, and is a private space , which can save photos or private files. In this space it is simply a series of applications enabled.
This private space is, in short, a second virtual mobile , so this site set you would have to go back to all including accounts. The gallery in this space is called private photos, and pictures that you save here are not displayed in the main space and vice versa, although you have the option to share files between spaces.
The keyboard that comes installed as standard is TouchPal , a good keyboard if you do not like that of Google (which is also preinstalled). As for space, of the 16 GB will you about 10 GB free , so slowly that you install some horseplay have to draw on a microSD card.
in general, beyond the version of Android and somewhat overdue more than aggressive customization, the experience has been good, I have not met lags that might annoy the user experience. However, not everyone will like aesthetic level
software-coolpad-torino
href="https://www.xatakandroid.com/galeria/software-coolpad-torino/2″>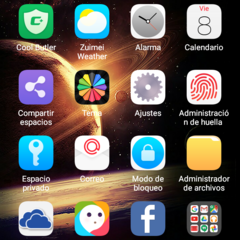 href="https://www.xatakandroid.com/galeria/software-coolpad-torino/4″>
Coolpad Torino, the opinion of Engadget Android
a little summary, the Coolpad Torino is a good terminal, with a balance is quite achieved for the price you have, and that is a mid-range that is able to solve most situations solvency and also you hardly leave planted.
During these two weeks have crushed him with games, have tried their autonomy, all possible options and, certainly, what I most liked is the battery life , but I also want to mention the fingerprint sensor, which works relatively quickly and very reliably in these two weeks I have not failed at any time.
the worst of this terminal, I have no doubt, is the version of Android you spend, it is that in mid-2016 go to Android 5.1.1 for life is something that should be banned. With Marshmallow I am quite sure that the battery, good in itself, would be even better, so it is something that the manufacturer should look
Your layer of customization will not leave anyone indifferent. Or love her or hate aesthetically speaking, and in terms of bloatware, luckily there are useful things like those mentioned above. In addition, and although the version of Android does not have natively, in the settings there is a section permission management, which is arranged (very little) version of Android already obsolete.
throughout the analysis we considered that it is a mobile of 216 €, a price that seems fair. Perhaps will miss the NFC , but at least we have a fingerprint sensor, as I said before, it works quite well. For an average user this terminal will be more than enough, and having all this in mind, here's our final assessment:
6.54
Pros
display with good outdoor visibility
fingerprint sensor
Autonomy
against
Android 5.1.1 Lollipop at this point
Interface too intrusive
No NFC
–
The news Coolpad Torino: good phablet with fingerprint sensor was originally published in ​​ Engadget Android by Santiago Luque .

Xataka Android
Coolpad Torino: good phablet with fingerprint sensor