this Is the curious artifact that carries Sam, the protagonist of the game; this purchase option has a price of 200 euros.
Death Stranding revolutionized the week featuring not only their awaited new trailer, but also announced its release date. The new and curious game of Hideo Kojima will be available on PS4 next November 8, and we have already known is also different purchase options.
So is the awesome BB Pod to actual size
Among them are Collector's Edition, valued at 200 euros, which includes a number of extras for the game along with the suitcase that carries the character in the video game, and a keychain of Ludens. However, there is something more in this Collector's Edition: the BB Pod to actual size porta Sam, the protagonist.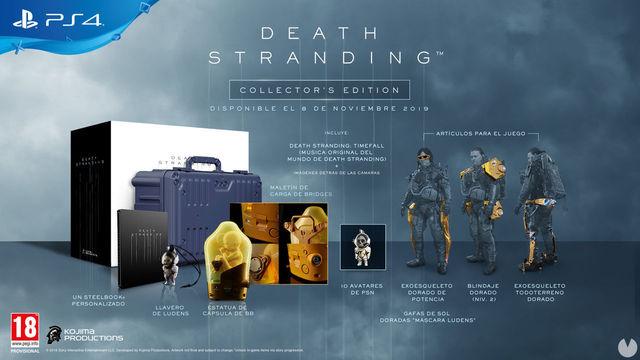 The director Hideo Kojima has wanted to display Twitter images of this artifact, the comparing it with the statue Ludens feature of the offices of Kojima Productions.
The 1/1 size BB pod of Collector's Edition is a miracle Sentinel created with our supervision. Refer the size from the photo. The lamp inside can be turned on. Can be used as décor, for cosplay, as a lamp… LUDENS mini figure comes with it too. pic.twitter.com/ehn9A9v2EQ— HIDEO_KOJIMA (@HIDEO_KOJIMA_EN) may 29, 2019
#DeathStrading #デススト pic.twitter.com/0rD4ib0neG— 小島秀夫 (@Kojima_Hideo) may 30, 2019
also, Kojima has indicated that this BB Pod has been created under the supervision of Kojima Productions and may use lamp mode, in the words of the director himself. You can see in more images below:
pic.twitter.com/QMsTGK9Yr5— 小島秀夫 (@Kojima_Hideo) may 29, 2019
Received the gorgeous gift (flower and champagne!) from Mr.Hamamura, thank you very much. Took a photo with the Pod that comes with our Special Edition. Now we are entering the hell (Hades) more than ever👍🌈🦀🐟🐋🐬☔️✋👶#DEATHSTRANDIG #デススト
TOMORROW IS IN YOUR HANDS. pic.twitter.com/YYJQjOkgVW— HIDEO_KOJIMA (@HIDEO_KOJIMA_EN) may 30, 2019
on the other hand, Kojima also wanted us to show how are the goggles that carries Sam in the game, doing he same model.
pic.twitter.com/ELvZGNzsGR— 小島秀夫 (@Kojima_Hideo) may 30, 2019
The adventure of open world Death Stranding will come to our PS4 the 8th of November. Players will accompany Sam – played by Norman Reedus – in their attempt to put back together a fragmented society. You can read our progress here.
Death Stranding: Hideo Kojima shows the BB Pod Collector Edition
Source: english
May 31, 2019