the creators of The popular Modern Strike us gets a new multiplayer shooter. the Azur Interactive Games brings us to our Android devices the new Destiny Warfare.
Destiny Warfare is a futuristic shooting game in first person that takes us to an interplanetary war, in which we will have to create or join a clan to confront with players from around the world.
Seven multiplayer modes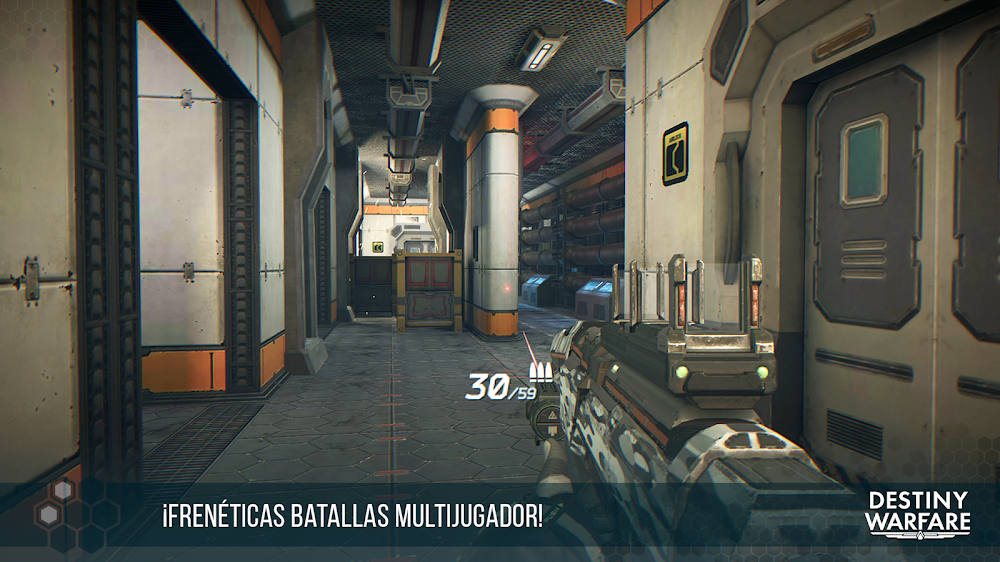 Destiny Warfare is a online game, therefore there are only games against real players, there is no campaign mode. We have to select what kind of online game we want to play from among the following game modes:
team Battle: Two teams fight for dominance. The team with the most points wins the round.
free Game: all against All. The player with the most points wins the game.
Giant: Increases the damage, making the game more realistic.
Battle 1-on-1: Two players fight to the death.
Battle of grenade launchers: players will fight only with grenade launchers.
base Defense: team Games you will have to destroy the enemy base and defend your own.
custom Games: You have to put your own rules to invite your friends to fight in your game room custom.
Destiny Warfare offers high-quality graphics and has a few simple controls, the character trigger automatically when an enemy gets in the middle of the crosshairs. The game is Free-to-Play, or rather a Pay-to-Win, which-app purchase is used to improve the person and their futuristic weapons and thus avoiding having to go level up your character.
Destiny Warfare
In Xataka Android | Shadowgun Legends comes to Android, so is their new multiplayer shooter that challenges you to achieve fame
–
The news Destiny Warfare comes to Android, the new multiplayer shooter from the creators of Modern Strike was originally published in Xataka Android by Cosmos .

Xataka Android
Destiny Warfare comes to Android, the new multiplayer shooter from the creators of Modern Strike
Source: english
April 19, 2018