While we hope to learn the new push from Google to their platform for watches Wear YOU after the purchase of the R+D department of Fossil, the company from time to time you update your operating system to remind us that it still lives.
In these last days, watches Wear OS 2.24 began to turn to all the world their new 'Tiles', a few new cards that allow us to customize the display of our clock.
What are the new cards Wear OS
The new cards Wear OS are a kind of widgets that we can add to the display of our clock, and that we can access by sliding your finger to the left. If, before sliding to the right, the entrance to the Wizard and to the left to Google Fit, you can now continue sliding to the left to see more widgets applications.
Some of the cards Wear OS that we can find at our watch are:
Targets (Google Fit)
Points cardio (Google Fit)
heart Rate (Google Fit)
Timer (Clock)
Anticipation (Time)
Next event (Google Calendar)
Customize the card from your watch Wear OS
To customize your clock with these new cards so we just swipe with your finger to the left and perform a long press. By clicking on the arrows you can move a card and deslizandola up or down will delete the information.
Can you add** to a maximum of five cards**. To do this we just have to slide up to the end of the list and click Add card. There we will see the cards that are not yet activated.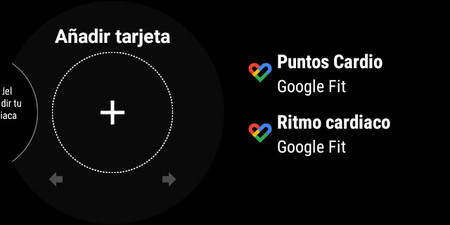 From your mobile
we can Also customize our clock from our mobile through the application Wear OS. There you will find the new section Cards.
settings My card you can reorder them by dragging them from the icon dotted, delete them by swiping to the right, or add more cards by clicking on the '+'icon.
Currently the API of 'Tiles' is private, and Google only is sharing with a small selection of developers, with what you currently very few applications are compatible with the new cards Wear OS. Since a few days there are a API not official that allows developers to support in their applications to this new.
Smartwatch Wear OS by Google (before Android Wear)
we Also recommend
Wear OS 2.1.7 includes the expected, and already announced, compatibility with the apud esim
The TicWatch Classic 2 is already official: Mobvoi returns to the fray with Wear OS, stainless-steel and skin
Misfit Steam 2, a new smartwatch with Wear OS, stand-alone GPS and NFC support for Google Play
–
The news How to customize your watch Wear YOU out with their new cards was originally published in Xataka Android by Cosmos .

Xataka Android
How to customize your watch Wear YOU out with their new cards
Source: english
June 13, 2019