A the recent contributions of Google to the accessibility was the morse code to Gboard. Since your last beta version already it is possible to write using this system of representation of letters and numbers, through broadcast signals intermittently.
The support of this system of communication comes accompanied by a fun experiment that allows us to learn how to write in morse code without realizing it, while we play. But to be able to type in morse code, the first thing we need to do is to configure the keyboard Gboard of the following form:
How to configure Gboard to write in morse code
With the keyboard open, we have that hold down the 'key,' until you see the gear icon. When it appears, while still pressing, slide your finger towards the icon and drop it. There's a pop-up window allows us to access the language and keyboard settings. The option that interests us is the Languages.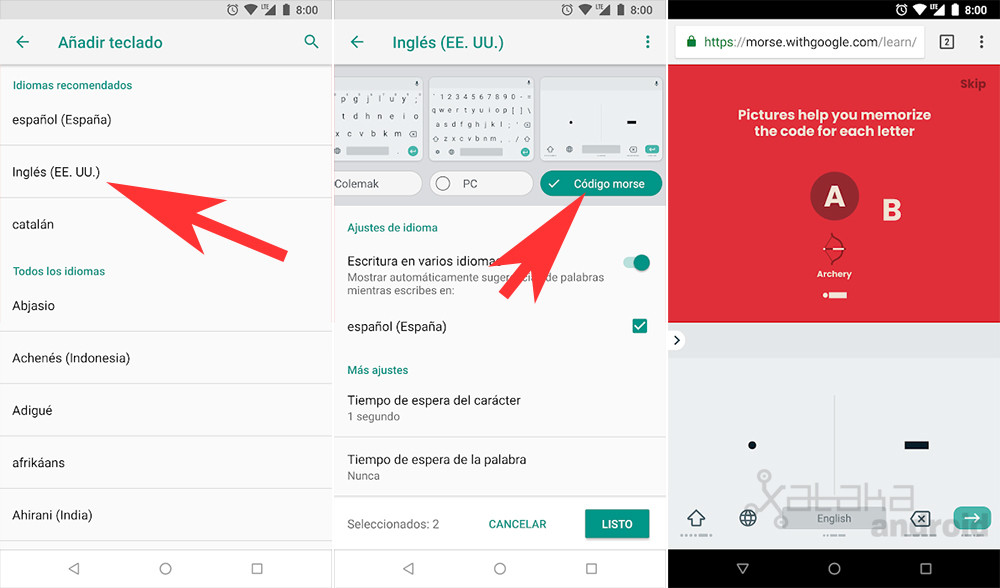 There Languages click on Add key and select English (U.S.). In the next window set the style of morse Code and click on "Ready".
The next step to change the keyboard in morse code, to do this you just need to click on the icon of the planet earth and select the keyboard morse Code. From that point we can write using the point and line.
Morse Typing Trainer
to learn how to write in morse code we can use the experiment Morse Typing Trainer that Google has launched for the occasion. It is a simple game that a visual will allow us to memorize how to write each letter using the morse code.
official Website | Morse Typing Trainer
Xataka Android | How to create your own GIFs with the new version of the keyboard Gboard Google
–
The news How to learn to write in morse code with Gboard and the new experiment of Google was originally published in Xataka Android by Cosmos .

Xataka Android
How to learn to write in morse code with Gboard and the new experiment of Google
Source: english
May 10, 2018