This time with CVD and DQVI heroes in a new and extensive video.
Square Enix still showing Dragon Quest Heroes: The misfortune of the World Tree and the root of evil , and this time , focuses on the characters of the game coming from Dragon Quest V and Dragon Quest VI .
Thus, in the video we see Bianca and Nera Dragon Quest V . Bianca is equipped with his bow and has always had a hard life, resulting in an attitude sometimes difficult to understand but a heart of gold. Nera, meanwhile, is a young woman from a wealthy family with an easy character and it's always nice to everyone.
Dragon Quest VI we have Terry, a lone swordsman who always thinks of the battle, something rough and distrustful in dealing
Video.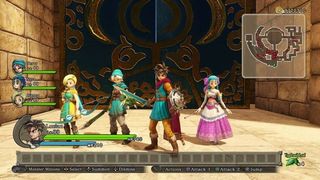 Square Enix shows more characters Dragon Quest Heroes
Source: english
October 11, 2015