Arc System Works will update the game with more characters the next 21 November for 24,99 euros.
Arc System Works presents a new video of the upcoming characters that they're going to get BlazBlue: Cross Tag Battle. We are faced with a a crossover accessible, fun and designed for all fans of fighting games, both veterans and more experienced. Arc System Works has designed this fighting game from 2D to be enjoyed by couples, inviting us to select two fighters from the extensive roster of players that offers us, and now we are introduced to Tohru Adachi. From Persona 4 Arena Ultimax.
Video: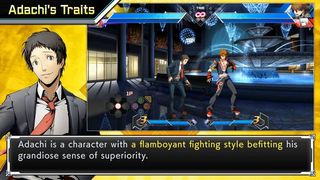 Adachi will be added to the game on November 21. The same day there will be a free update that will introduce improvements in the balance of the game.
yes, the pack of fighters of payment will have a price of 24,99 dollars, so expect that to sell for 24,99 euros in our region.
The new characters are:
Celica A. Mercury BlazBlue Central Fiction
Elizabeth

Persona 4 Arena Ultimax

Tohru Adachi of

Person 4 Arena Ultimax

Hilda de

Night In-Birth

Susanoo of

BlazBlue: Central Fiction

Yumi of

Senran Kagura:

Estival Versus
Blitztank of

Akatsuki Blitzkampf

Akatsuki of

Akatsuki Blitzkampf

Neo Politan of

RWBY
Still more universes represented
To make simple the mixture of heroes from various licenses and franchises, the development team has sought to make combat practical, with mechanical, more understandable, and including a good amount of combo machines that provide spectacular battles. The video game features 20 wrestlers on the disc, and 20 available by download or available through the season pass, we will add these new incorporaciones.
Tohru Adachi shows his skill to the combat in BlazBlue: Cross Tag Battle
Source: english
November 2, 2019