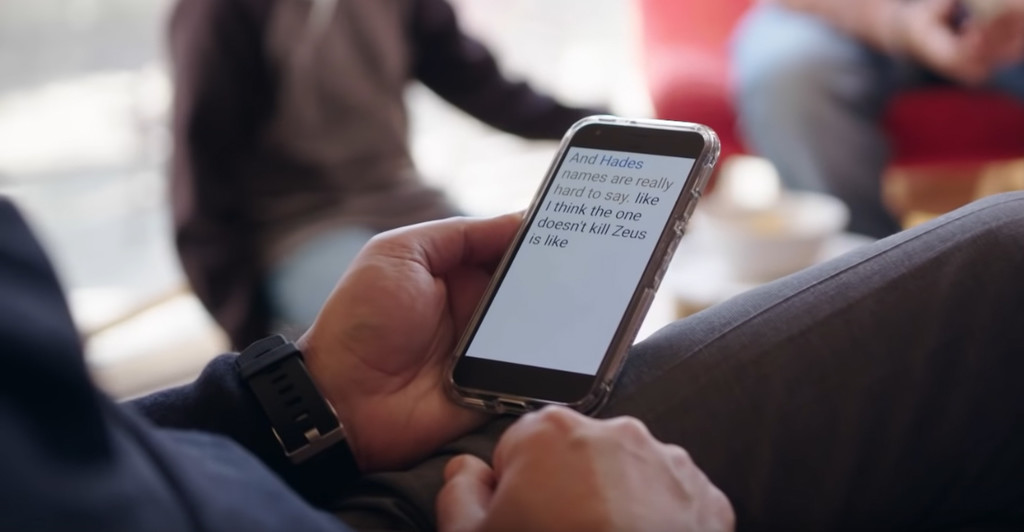 Google continues with their concern and commitment to ensure accessibility technology, something that is already stressed Sundar Pichai, the company's CEO, during the keynote opening Google's I/O 18. Beyond the apps aimed at this purpose that we can find in Google Play, the technology giant also will be adding features designed for all those who have some type of disability, such as, for example, the routes from Google Maps.
Within that catalog of solutions, Google has added today two new apps for Android designed to help people who are deaf or hard of hearing: Transcription instant and Amplifier Sound (Live Transcribed, and Sound Amplifier, in English). And is that, according to the company itself in the press release published on his blog, World Health Organization estimated that by the year 2055, there will be 900 million people with hearing loss.
Transcript snapshot: subtitles in the conversations
After thirty years working in the voice recognition, and giving way to the technologies of accessibility, Dimitri Kanevsky, a invesitgador Google that you have hearing loss from childhood, he designed CART, a service that creating a transcript of the dialog during a meeting and displays it on the screen of a computer. As A result of that, Chet Gnegy, a teammate of Dimitri, he saw the difficulties in using CART and decided to develop a tool that would simplify.
The result is a Transcription Snapshot (Live Transcribed), an application designed in collaboration with Gallaudet University and available in over 70 languages and dialects. Its function is as simple as useful: capture the voice and convert it in subtitles in real time simply by using the phone's microphone. In addition, it allows the two way conversation through a keyboard write for the users that cannot or do not want to speak, and connects to external microphones to improve the accuracy of the transcription.
To use this app, just enable it in 'Settings' > 'Accessibility' and start the application from the button of accessibility that is in the navigation bar. As of today, Transcription Instant will arrive gradually in a limited beta for users all over the world through Play Store and pre-installed on devices Pixel 3. The good news is that it is possible to sign up to be notified when it is available.
Amplifier of sound: clearer audio
Although it was announced last may during the above-mentioned Google I/O, is now when Google has launched finally sounding Amplifier (Sound Amplifier), a solution that is designed for people with hearing loss or for situations in which there is excessive noise in the background that hinders the communication.
Básciamente, Amplifier sound allows you to achieve a audio more clear and more easy to listen to and, to do this, offers the possibility to customize the sound settings, and apply noise reduction by using simple sliders and switches. Can be used in a Android phone with a wired headset to filter, augment, and amplify the audio, so that it increases inaudible sounds without increasing too much the strong.
The app Amplifier sound comes pre-installed in the Pixel 3, and is available free of charge at Play Store to the devices Android 9 Foot or higher.
More information | Google
we Also recommend
Language Navi translates the texts of apps in other languages, or at least tries
Spoilers-Blocker, an app to get rid of the spoilers on social networks, or apps messaging
we ride the Sierra West riding Toyota Yaris GR SPORT
–
The news Transcription instant and Amplifier of sound, the new apps from Google for people with hearing problems was originally published in Xataka Android by Laura Sexton .

Xataka Android
Transcription instant and Amplifier of sound, the new apps of Google for people with hearing problems
Source: english
February 5, 2019