Nintendo launches the news channel of Zelda in Nintendo Switch
Allows you to get objects and tips for Zelda: Breath of the Wild.
After the update released yesterday to The Legend of Zelda: Breath of the Wild, Nintendo has updated the news system Nintendo Switch including specific channels games. Through the channel centered in this installment of the saga The Legend of Zelda users can already get some additional line items.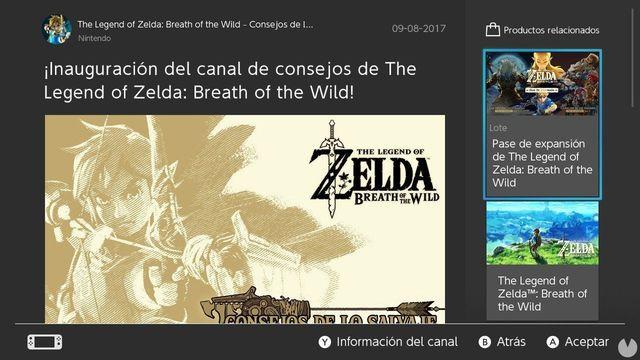 The channel has been released, with tips to building a good relationship with the dogs that can be found in different locations of the game. This can make the dogs take us to chests buried to hide items, such as weapons, or rupees. Of course, you can find a lot of advice and help in our game guide.
to access this channel, users of Nintendo Swich must subscribe to the same entering to the list of available channels from the News section of the main menu of the console. You can see thanks to the YouTube channel Nintendo Hall a short video that shows the system step-by-step:
When you go to read this first council, and the following, you will see that at the end of the text there is a button that will allow them to access rewards additional. When you press the button, it will launch the game (or resume game if it was in the background) and the sky will fall the items you have won (in a similar way to the items you get when you use the collectable figures amiibo).
These items can be claimed as many times as you want, at least in this first installment, that gives us two apples and meat. Have to wait and see if future items are more substantial (such as rare weapons or any improvement built, as more resistance), but in any case it is a small help for the player.
Nintendo launches the news channel of Zelda in Nintendo Switch